From suburb to city to ocean strip, Miami and Broward parks offer natives and tourists the chance to explore tropical life, relax in nature or try something new. The local park scene boasts sunny beaches, exotic rainforests, modern art, lush mangroves, water sports, and even intense domino games. There's something for everyone: outdoor or indoor, on ocean or land.
Below are our 20 favorite park picks. Click on the links for more information about each park's special features, location, hours and more.
Sign Up and Save
Get six months of free digital access to the Miami Herald
————— Parks in Miami —————
A.D. "Doug" Barnes Park and "Sense of Wonder Nature Center"

Address: 3701 SW 72nd Ave., Miami

Phone: 305-666-5883 (park)/305-662-4124 (nature center)

Hours: sunrise – sunset

Admission: free

Amenities: picnic tables, barbecue grills, swimming pool, walking trails, bike paths, baseball/softball field, basketball court, campsites
The hook: We all need a Sense of Wonder.
Doug Barnes has the basics – picnic tables, barbecue grills, a heated swimming pool, and sports fields. But the real draw is the Sense of Wonder Nature Center, a 15-acre wildlife sanctuary teeming with migrating birds and other wildlife. Kids and parents can attend free nature study programs and camps or get up close and personal with the reptiles owned by the Miami-Dade Fire Department's Anti-Venom unit. This spot is a favorite for eco-tours, hiking, camping and outdoor birthday parties. The park also provides easy access for people with disabilities.
—–
Alice C. Wainwright Park

Address: 2845 Brickell Avenue

Phone: 305-856-6794

Hours: sunrise – sunset

Admission: free

Amenities: picnic shelters, barbecue grills, walking trails, basketball court
The hook: Little park, big views.
A hidden gem tucked away on a mansion-lined street near Vizcaya, Wainwright boasts some of the last remaining public views of Biscayne Bay. Picnickers can spread out near the native hardwood hammocks and gaze at the crane-filled skyline, Key Biscayne and distant Stiltsville. This treasure seems undiscovered for a reason — parking can be tricky.
—–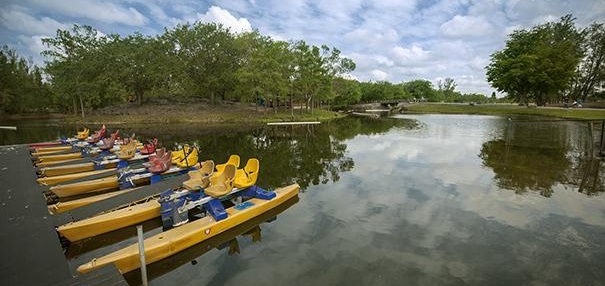 Amelia Earhart Park

Address: 401 E. 65th St., Hialeah

Phone: 305-685-8389

Admission: Free Monday-Friday; $5 per vehicle on weekends; Bark Park – free

Amenities: picnic shelters, barbecue grills, concession stand, walking trails, bike path, fishing, boat rental, volleyball, four soccer fields
The hook: Farm life in Hialeah
The Bill Graham Farm Village takes visitors back in time to old Florida farming days. Check out the petting zoo or sample farm life in the Demonstration Shed, where you can learn to milk a cow, shear a sheep, or shoe a horse. Wander the crop field planted with vegetables and towering sunflowers or cast lines from the fishing rock. When you've had enough of the farm, a 5-acre Bark Park boasts space for both large and small dogs, washing and grooming areas, doggy swimming pools and obstacle courses. Other offerings include bike trails, soccer fields, sailing lessons and picnic areas.
—–
Bill Baggs Cape Florida State Park

Address: 1200 S. Crandon Blvd., Key Biscayne

Phone: 305-361-5811

Hours: 8a.m. to sundown

Admission: $1.50 toll to access Key Biscayne, pedestrians and bicyclists $2, vehicle with 1 person $4, vehicle with up to 8 people $8.

Amenities: picnic shelters, barbecue grills, concession stand, walking trails, bike path, fishing, boat rental, showers
The hook: Peace, love and a lighthouse.
A haven for nature on the southern end of Key Biscayne, Bill Baggs boasts nature paths, picnic pavilions, play areas and 1.25 miles of sandy beach at the foot of the oldest standing structure in the county, the Cape Florida Lighthouse, built in 1825. Take a tour up the tower's 109 steps and see the keeper's cottage for free at 10 a.m. and 1 p.m., Thursdays through Mondays – but make sure to call ahead and reserve your spot. A path running along the tip of the island connects the beach and No Name Harbor, a beloved spot for Sunday yachters to drop anchor. No boat? Enjoy the water views from the porch of Boater's Grill, a casual seafood restaurant at the harbor's edge.
—–
Biscayne National Park

Address: 9700 SW 328th St., Homestead

Phone: 305-230-7275

Hours: 24hrs/day (Water portion), 9am-5pm (Dante Fascell Visitor Center), 7am-5:30 pm (park headquarters)

Admission: free entrance

Camping on Elliott Key and Boca Chita Key: $25/night

Overnight docking: $30/night

Glass-bottom boat trip (10am-1pm): adults $29 plus tax, children under 12 $19 plus tax

Coral reef snorkeling trip (1:30-4:30pm): adults $35.00, children under 12 $29.95

Bay snorkeling trip (1:30-4:30pm) $25.95

Scuba diving (8:30am-1pm Sat-Sun): $54

Amenities: barbecue grills, walking trails, fishing, campsites, showers
The hook: America's "first underwater park" is a snorkler's paradise.
95 percent of this park is underwater, so a snorkeling or scuba trip is in order if you want to see more than the parking lot and welcome center. Try one of the snorkeling excursions among the coral reefs, or if you're a certified diver, rent equipment for scuba trips, available on weekends. Rather stay dry? Explore the shoreline in a canoe or kayak or take a three-hour glass-bottom boat tour to see dolphins, tropical fish and sea turtles cavorting near the coral reefs. The boat also transports campers to the islands, where they can picnic on Elliott Key, hike to the lighthouse on Boca Chita Key, or stroll through the hardwood hammocks of Adams Key.
—–
Fairchild Tropical Botanic Garden

Address: 10901 Old Cutler Road, Coral Gables

Phone: 305-667-1651

Web site: www.fairchildgarden.org

Admission prices: adults $25, seniors $18, children 6-17 $12, children under 5 free
The hook: It's the Louvre of tropical botany.
Paved pathways and a free tram tour provide easy access to the beauty of Fairchild's sprawling gardens, which include a 2-acre outdoor tropical rainforest and several collections of tropical plants. Stroll through Windows to the Tropics, a large conservatory in which rare palms, ferns and tropical plants thrive year-round. The display room features two greenhouses with new species blooming every day, and the Whitman Tropical Fruit Pavilion showcases exotic fruits from around the world. One of the Garden's annual highlights is the International Mango Festival, where visitors can sample a variety of exotic mangos, purchase mango trees and try mango-inspired cuisine. Fairchild also sells locally-grown mangos, avocados and tropical fruit smoothies at a market on 20 acres of commercial orchards in Homestead.
—
Flamingo Park

Address: 1000 12th St., Miami Beach

Phone: 305-673-7766

Hours: 7am-9pm

Admission: free

Amenities: concession stand, swimming pool, walking trails, baseball/softball fields, basketball courts, tennis courts, showers
The hook: Local flavor in the midst of South Beach's tourist-thronged Deco District
This palm-lined oasis, smack in the center of the Deco District, draws beach denizens of all kinds, from soccer players to tennis champs to handball geeks. Locals gather here for baseball games, tennis lessons, dog parks, and the occasional concert or movie under the stars.
—–
Fruit and Spice Park

Address: 24801 SW 187th Ave., Homestead

Phone: 305-247-5727

Hours: 10am-5pm daily, guided tours at 11am, 1:30pm, and 3pm

Admission: adults $8, children 6-12 $2, children under 6 free

Amenities: gardens, festivals, gift shop
The hook: Miami's tastiest green space
Fruit and Spice bills itself as the only tropical botanic garden of its kind in the country, drawing visitors to taste their way through 35 acres of exotic fruit, herbs and spices. Tour the herb and vegetable gardens and groves to see fruit-bearing plants from around the world, including more than 27 types of mangoes, 40 different kinds of grapes and 80 varieties of banana. This is no U-pick spot – taking anything from the park's plants is forbidden – but visitors can sink their teeth into any fruit that's fallen on the ground. At the tasting table at the visitors' center, try free morsels of Mangosteen, Dragon Fruit or Jaboticaba. The park also hosts the annual Redland Festival, Asian Culture Festival, Tropical Ag Fiesta and orchid shows.
—–
Matheson Hammock Park

Address: 9610 Old Cutler Road, Miami

Phone: 305-665-5475

Hours: sunrise – sunset

Admission: $5 per vehicle weekdays, $7 weekends and holidays, $12 boat ramp launch trailers (weekdays), $16 Friday-Sunday

Amenities: picnic shelters, barbecue grills, concession stand, pool, walking trails, bike path, fishing, showers
The hook: Boater's paradise.
The park's most popular for the full service marina, where you can dock your dinghy in tropical hammocks or take classes at the sailing school. The boatless can still enjoy the water in the park's man-made atoll pool. Chow down at the snack bar or hit the Red Fish Grill, a park-run restaurant housed in a historic coral rock building.
—–
Maximo Gomez Park

Address: 801 SW 15th Ave., Miami

Phone: 305-285-1684

Hours: 7:30am – 9pm

Admission: free

Amenities: tables for dominoes, chess and checkers
The hook: The clack of the dominoes, the haze of cigar smoke.
Named after a Cuban revolutionary war hero, but known to most residents as Domino Park, this famous neighborhood site and tourist attraction on Calle Ocho is one of the liveliest spots in Little Havana. Pavilions shade the game tables, where an older crowd of mostly Cuban men and women compete intensely, clacking down domino tiles for hours on end. Tour buses regularly disgorge camera-toting passengers at the park entrance, but tread carefully – many players find it rude if outsiders snap pictures and aren't afraid to let them know.
—–
Oleta River State Park

Address: 3400 NE 163rd St., North Miami Beach

Phone: 305-919-1846

Hours: 8am-sundown

Admission: vehicle (one person) $4, vehicle (2-8 people) $6, pedestrians/bicyclists $2

Amenities: picnic shelters, barbecue grills, concession stand, bike path, fishing, volleyball, showers
The hook: Kayaks and cabins and bikes, oh my.
Located right on Biscayne Bay and beloved by kayakers, Oleta River is Florida's largest urban park with more than 1,000 acres. The endless mangrove trails along the river bank, swimming lagoons and breezy beach transport you far from Miami's metro madness. Bring a waterproof camera to snap any dolphin or manatee encounters, and don't miss a side trip through the butterfly garden. Rent a cabin for the weekend or try the off-road mountain bike trails, graded from beginner to expert.
—–
Pinecrest Gardens

Address: 11000 Red Road, Pinecrest

Phone: 305-669-6942

Hours: 8am-sunset daily

Admission: $5 (includes splash park), $3 seniors 55 and older

Amenities: petting zoo, botanic gardens, concession stand, water park, playground, gift shop, library (planned), exhibits
The hook: Parrot Jungle's old home keeps it real.
Although Parrot Jungle decamped for Watson Island in 2002, this quaint park hasn't lost its fan base. With a playground, petting zoo, miniature water park and swan-filled lake, Pinecrest Gardens is a favorite of suburban families in South Miami-Dade. Stroll through botanic and butterfly gardens or follow the mock rivers and waterfalls until you reach the sinkhole. Coming soon: A new community center and library with additional exhibit space.
—–
South Pointe Park

Address: 1 Wasington Ave., Miami Beach

Phone: 305-673-7730

Hours: No set hours

Admission: Free

Parking: meters; $2 for residents

Amenities: open play space, picnic shelters and pavilions
The hook: A rare populist spot on South Beach.
An ad-hoc town square for South Beach where locals, both human and canine, mingle. Located at the very southern tip of the island, it's a no-frills open space for joggers and dog-walkers to do their thing. Benches along the paved walkway near the water provide an ideal perch to watch the world go by or wave at cruise ships heading out to sea. Prime time is on Sunday evenings, when the passing ships and setting sun remind you of how nice beach life can be. If the park experience feels a bit too rustic, Smith & Wollensky serves up al fresco dinner and wine – and the same million-dollar views.
—–
Tropical Park

Address: 7900 SW 40 St., Miami

Phone: 305-226-8316

Hours: 7am-10pm

Admission: free

Amenities: playground, tennis, raquetball, basketball, baseball, softball, soccer, boxing, equestrian center, biking, running, fishing, fitness court
The hook: Jocks welcome here.
This former race track is now an athletic smorgasbord, with football, basketball, tennis and baseball facilities, not to mention fishing, a fitness course and an equestrian center, which hosts more than forty horse shows annually. Prefer a spectator sport? Tropical Park Stadium is home to both Miami FC professional soccer and the nationally recognized Metro-Dade Track Club.
————– Parks in Broward —————
Anne Kolb Nature Center and West Lake Park

Address: 751 Sheridan St., Hollywood

Phone: 954-926-2480

Hours: 8am-6pm (park), 9am-5pm (marina)

Admission: Fees on weekends and holidays only, $1.50 per person or max charge of $8per car

Exhibition Hall admission: $2

Environmental Boat Tour: adults $5, children $3

Amenities: boating, canoeing, kayaking, marina, tours, aquarium, hiking, biking, nature trails, fishing
The hook: Nature's calling.
This lake and mangrove habitat is full of nature trails, native birds and wildlife. Scale the five-level observation tower for a view across the thick mangrove canopy or take a narrated boat tour across West Lake. Watch for fiddler crabs, mangrove crabs, mullet, snapper, heron, and many more animals that call this restored area home. Beat the heat with indoor wildlife exhibits, which include the center's 3,500-gallon aquarium.
—–
ArtsPark at Young Circle

Address: Hollywood Blvd. at US 1

Phone: 954-921-3520

Hours: sunrise – sunset

Admission: free

Amenities: fountains, play areas, visual arts pavilion (planned), amphitheater (planned)
The hook: It's artsy-parksy.
This multi-million dollar park, opened in 2007, puts a modern, artistic twist on the conventional playground. Kids can romp through interactive water-jet fountains, swing on enormous cat-tail poles, climb teepee-shaped nets and spin on vivid rotating discs. Relax under the shady trees of a grove edged with butterfly gardens, or toss Frisbees in the meadow. From the striped walkways and custom sculptures to a musical baobab tree, everything in this creative oasis is a playful work of art.
—–
Butterfly World/Tradewinds Park

Address: 3600 W. Sample Road, Coconut Creek

Phone: 954-977-4400 (Butterfly World)/954-968-3880 (park)

Web site: www.butterflyworld.com

Hours: (Butterfly World) Mon-Sat 9am-5pm, Sun 11am-5pm No, Entrance after 4:00pm daily; (Park) 8am-6pm daily

Admission prices: (Butterfly World) adults/seniors $26.95, children 3-11 $21.95, children under 2 free; (Tradewinds Park) Fees on weekends and holidays only, $1.50 per person in car

Amenities: train rides, horse trail rides, boat rentals, concession stand, disc golf course, hayrides, playgrounds, picnic shelters, fishing, walking trails, bike paths, nature trails, athletic fields
The hook: Butterflies and much, much more.
Most visitors come for Butterfly World, home to a tropical rainforest, brilliant botanical gardens and aviaries teeming with live butterflies and wild birds. But winged creatures aren't all: Tradewinds offers pony rides, horse trails, a mini-train, athletic fields, sports leagues, canoes, kayaks, paddleboats, disc golf, hayrides, fishing, jogging, biking, and probably a few things we forgot. Don't miss the English rose garden or the bug zoo.
—–
Flamingo Gardens

Address: 3750 S. Flamingo Road., Davie

Phone: 954-473-2955

Web site: www. flamingogardens.org

E-mail: wrayhq@aol.com

Hours: daily 9:30am-5:30pm, closed Christmas, Thanksgiving and Mondays from June 1 to Sept. 30th (Open Labor Day).

Admission: adults $19.95, children 4-11 $12.95, children 2 and under free. Seniors/AAA members/military get 20% discount with ID. Students get 30% discount with ID. Discount coupon also available online.
The hook: The complete tropical eco-experience.
The 60-acre botanical gardens and wildlife sanctuary showcases a 25,000 sq. ft. "free flight" aviary of wading birds, along with live presentations of rare Florida birds of prey and reptiles, tram tours through groves and wetlands, and gardens with butterflies, hummingbirds, and tropical plants. Kids will enjoy a trip to Flamingo Island, Alligator Lagoon, the arboretum and the natural habitats of panthers, bobcats and river otters. And of course there are the namesake pink flamingos to watch while snacking at the cafe. Flamingo Gardens also sells hard-to-find tropical plants and trees in its marketplace, which you can enter without paying admission.
—–
Library Park

Addr ess: 4255 Bonaventure Boulevard, Weston

Phone: 954-389-4321

Hours: 8 a.m.-9 p.m.

Amenities: picnic shelters, gazebos, Florida Author's fountain
The hook: The area's first park for bookworms
Library Park is a 5-acre refuge designed with readers in mind, from the soft Bermuda grass, shaded pavilions and gazebos, and spaces intended for book groups. The entrance walkway showcases photos and biographies of famous Florida authors, and a fountain is planned to resemble a stack of books. The park's location beside to the Weston Branch Library, Broward Community College and other schools means the area is sure to sometimes double as an outdoor classroom.
—–
Markham Park

Address: 16001 W. SR 84, Sunrise

Phone: 954-389-2000

Hours: (winter) 8am-6pm daily, (summer) Mon-Fri 8am-7:30pm, Sat-Sun 8am-7:30pm

Admission: Fees on weekends and holidays only, $1 per person or max charge of $5 per car

Amenities: tennis/racquetball center, biking/jogging path, volleyball areas, swimming pool, snack bar, showers, fishing, boat rental, nature/equestrian trail, target range, dog park.
The hook: The best park for man's best friend
This sprawling 666-acre park sits right on the edge of the Everglades and offers fishing, mountain biking, boating, jet skiing, camping and jogging. There's even a model airplane field and a monitored shooting range. But the crown jewel, for dog owners anyway, is Barkham at Markham, a 3-acre dog park where big dogs and small dogs have their own separate play areas. There's also a dog wash area and a jogging path where owners can work out with their furry friends and cool off at the human and dog-sized water fountains.
—–