Miami's coolest events courtesy of Prism Creative Group - Nov. 15-30
Supermoons or not, November  is a pretty awesome month to be alive, particularly in Miami where the weather is consistently upping its beautiful game. Holidays are on the horizon and there's so much to celebrate in our city; positive vibes abound. From film and music festivals, to book and art fairs, it's pretty much an awesome pre-Basel warm up over the next two weeks. So get in on this:
Wednesday, Nov.  16
Jack Daniel's Lunchtime Concert – Dial up your afternoon with a lunchtime concert brought to you by Poplife. Listen to vinyl sets by their resident DJ or jam out in their music shop and take a rock n' roll photo to prove it. Swing by all week to check out their not-so-ordinary assortment of goods and services. The first 150 guests will receive exclusive Jack Daniel's swag in honor of the Anniversary of the Distillery. Special Performance by XAXO.
Where: 2600 NW 2nd Ave. Time: 1 p.m. Tickets: Free.
Complimentary YogArt – It's the season of giving and what better way to give than with a FREE YogArt class. Get ready to rock and roll those mats out for the second YogArt Rocks event. This complimentary session will be led by South Florida's own Dawn B Feinberg featuring musical guest Mayapuris.
Where: 3841 NE 2nd Ave. Time: 6 p.m. – 7:30 p.m. Tickets: Free.
The Porch: A+E District's Acoustic Carpet – Arts + Entertainment District, Miami's hub for arts, entertainment and community extends their creative forces across the Wynwood/Downtown border to bring Acoustic Carpet to the Miami Book Fair. Enjoy a night of soulful sounds, chill grooves and powerful performances from some of Miami's finest musicians including Yoli Mayor, Javier Garcia and Keith Johns.
Where: MDC – 300 NE 2nd Ave. Time: 6:30 p.m. – 10 p.m. Tickets: Find out more here.
Thursday, Nov.  17
The Wynwood Yard 1-Year Anniversary – Swing for the ultimate ode to The Yard with a lineup of local favorites like Jahzel Music, Brendan O'Hara, Magic City Hippies and more thanking the outdoor hotspot for supporting the music scene. Plus a live Latin funk set by Xperimento! Take a tour of the newly expanded garden by Little River Cooperative, magical pop-ups like flower crowns, live poetry, henna tattoos, vinyl, and tarot card readings. Plus 7 all-new food vendors!
Where: The Wynwood Yard – 56 NW 29th St. Time: 8 p.m. – 11 p.m. Tickets: Free w/ RSVP.
Friday, Nov.  18
CreativeMornings – The monthly morning meet-up that brings some of the most influential local movers is back this month with something under the lines of "Fantasy." Paola Mendez is a serial entrepreneur, the founder of South Florida Bloggers, and the kind spirit behind The Blogger Union. Munch on local grub and sip on roasted beans taking in the inspiring story behind her work.
Where: Neushop – Ingraham Building 15 SE 2ND AVE. Time: 8:30 a.m. – 10 a.m. Tickets: Free.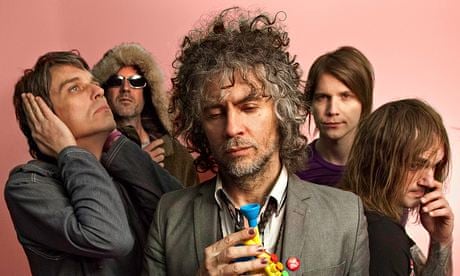 House of Creatives Festival – One of the biggest lineups to hit The North Beach Bandshell in a while: Flaming Lips, Crystal Castles, Cold War Kids, Breakbot, Empress Of, SHIGETO, Buscabulla, POMPEYA, Millionyoung, Hunters Of The Alps, ArtOfficial and so many more. Plus food and local vendors galore, it's definitely something you don't want to miss.
Where: The North Beach Bandshell – 7275 Collins Ave. Time: 4 p.m. – 11 p.m. Nov. 18th & 19th. Tickets: Snag em here.
Vagabond Book Reading – Vagabond Book reading, signing and typewriting by The Biscayne Poet. Come check out some live typewriter improvisational poetry by request with his vintage Underwood typewriter. He'll also be reading from the Vagabond book, celebrating one year since its publishing and signing Vagabond copies as well as copies from "4Nights With Betsy".
Where: The Bookstore in The Grove – 3390 Marty St. Time: 6 p.m. – 8 p.m. Tickets: Free.
Too Much Love Magazine Release – After three years online, Too Much Love goes print and we they're celebrating it with a party full of great dark tunes by local artists. Live Performances by VOWWS (L.A.), Astari Nite, Virgo. DJ Sets by Mike Linder, and Rippin Kittin. Tickets also come with free Peroni Beer.
Where: Gramps – 176 NW 24th St. Time: 10 p.m. Tickets: Snag em here.
Saturday, Nov. &

nbsp;19
Mad Hatter Art Fair – The Mad Hatter Arts Festival returns for its 12th season at The Barnacle. This juried event features artists of all types of media, and this year artisan, repurposed, vintage, antique, and collectible items have been added to the lineup of vendors. As always, music is a highlight of the Mad Hatter, plus there is a participatory drum circle, various hat contests to enter and activities for kids of all ages! Bring a picnic or buy food at the park.
Where: The Barnacle Historic State Park – 3485 Main Highway. Time: 10 a.m. – 5 p.m. Tickets: $2 for ages 6 and up.
Little River Night Market – The night market is a way to connect with friends and find treasures. It's the chance to munch on something new and delicious and go home satisfied with a heavy little sack of something in your pocket. Jewelry, spices, fabrics, clothing, cards, books and all kinds of merchandise to be sorted through and experienced. Services such as massage, tarot card readings and information about bettering the body, mind and spirit are offered. Inhale Miami will fill its inside space, outdoor garden, plus a tented area to carry out this vision and create a true Night Market feel.
Where: Inhale Miami – 6310 NE 2nd Ave. Time: 7 p.m. – midnight. Tickets: Free w/ RSVP.
MI a.m.IsFF – Miami's Short Film Festival celebrates yet another great year with a themed night: Around the World in 80 Something Min. Inspired by the novel "Around the World in 80 Days," this program of films takes you around the world in under an hour and a half. Offering great variety, the program features drama and comedy, narrative and experimental, as well as several stamps to add to your passport from China, France, Costa Rica, Iran and more.
Where: Cinépolis (Miami) – 3015 Grand Ave. Time: 7:15 p.m. – 9 p.m. Tickets: Snag em here.
Sunday, Nov.  20
The Miami Flea – Swing by and enjoy the local community with pop-ups galore. Ride your bike or take transit, and make sure to stop by the kid's corner by Little Creative Souls for some creative crafts, and face painting. Check out the amazing creations of local artists, adopt a puppy, or get your hands henna-fied. There will be vintage treasures, vinyl, and more thrift finds that every before.
Where: 1440 N Miami Ave. Time: 2-6 p.m. Tickets: Free.
Wednesday, Nov.  23
Bougie's Annual Thanksgiving Eve Block Party – One of Miami's live music staples and classic bars is once again opening its doors and welcoming the city for their annual Thanksgiving jam, and it is epic. You got DJs on the inside, and local favorites like ArtOfficial and Afrobeta burning up the outdoor stage, plus free drinks for the ladies from 10pm to midnight.
Where: Bougainvillea'S Tavern – 7221 SW 58th Ave. Time: 4 p.m. – 5 a.m. Tickets: Free.  
Thanksgiving Eve at Mina's – Escape the bustle and transport yourself to the twinkling times of yesteryear at your new favorite hidden gem: Mina's Mediterraneo. After a successful kick-off, they're welcoming one of Miami's most delicious local bands (almost as delicious as that hummus, nah mean?), Magic City Hippies! Come by for that kind of wine-filled Wednesday we all want under the stars, before you go crazy for Thanksgiving weekend.
Where: Mina's Mediterraneo – 749 79th St. Time: 7 p.m. – 10 p.m. Tickets: Free w/ RSVP.
Saturday, Nov.  26
Elastic Bond's 10-Year Anniversary – Come spend a day at the beach and celebrate in genuine Underground Miami style as Elastic Bond enters double digits. They will take us on a musical journey through their first decade joined by special guests from Miami's vibrant music scene for an epic birthday jam fiesta. Nil Lara will share the stage and help rejoice in all that's great about Miami music along with Birdman's Clambake, Aaron Lebos Reality, and DJ Ephniko Dialecto.
Where: The North Beach Bandshell. Time: 5 p.m. Tickets: $5.
Saturday Sesh – This Thanksgiving weekend, The Dream Lab will be hosting their first event, "Saturday Sesh", at The Wynwood Yard. This Art Basel kick-off event will focus on showcasing underground Miami talent through innovative art installations from local brands and artists. The Dream Lab is bringing together all aspects of the community from music to skateboarding, painting, photography, dj'ing, fashion and more.
Where: The Wynwood Yard. Time: 2 p.m. – 7 p.m. Tickets: Free w/ RSVP.
Monday, Nov.  28
Swing State Grand Opening – In Little River, the art scene has been growing at a steady rate. Swing State is about challenging systems of American power. The art on view oscillates in the dialectic between Freedom and Control that is at the heart of political discourse; the choi

ce to choose, the privilege to inhale surveillance and consumption.
Where: Rojas + Rubensteen Projects – 8051 NE 2nd Ave. Time: 7 p.m. – 10 p.m. Tickets: Free.
Wednesday, Nov.  30
Lantern Light Festival – Experience an amazing evening of dazzling lights and shapes. The Lantern Light Festival is a celebration of a Chinese tradition that started over 2,000 years ago. Our enormous lanterns are hand-crafted by Chinese artisans and unique in color, size, and subject. You will see beautiful lanterns of architecture from around the world, creatures of the land and sea, holiday traditions, and mythical stories.
Where: Miami-Dade County Fair & Exhibition – 10901 SW 24th St. Time: 5 p.m. – 11 p.m. until January 8th. Tickets: Snag em here.
Tropical BBQ – Art Basel is in the air and there's a lot of things to celebrate. A+E District will be celebrating their 2-year anniversary and bringing back the tropical multi-sensory jams with art projections, A+E's best food, handmade cocktails and local craft beers, and so much more. Miami's funkiest local bands will open up for a super secret special guest at the backyard concert you won't want to miss. Make sure to come ready to dance.
Where: Canvas Miami – 90 NE 17th St. Time: 7 p.m. – 10 p.m. Tickets: Free w/ RSVP.
Prism Creative Group is a cultural development agency geared towards re-identifying Miami through engaging and locally-conscious storytelling, experiential events and content.