How to spend a nature-loving day in the Everglades
A park ranger leads a group slog in the Everglades. Photo: Tim Chapman
Use this itinerary to explore the Glades' natural glories by foot, bike or kayak — preferably in the dry season months from November to April, when wildlife is most plentiful.
Although a portion of this excursion is on Tamiami Trail, most of the spots that allow you to get closer to nature are found inside Everglades National Park and away from tourist central. The main park road runs Northeast-Southwest along S.R. 9336 and is marked by winding trails and boardwalks every few miles. Each trail features a distinct habitat, providing a variety of vistas for the eye-and the camera-to enjoy. So lace up your hiking boots, bring your best zoom lens and pack plenty of water for a day of hiking through South Florida's backyard.
Early Morning
STOCKING UP
Make sure to eat a substantial but light breakfast before you leave, since you'll be walking a lot. Buy or pack some snacks, plenty of water and lunch for later, since you'll be spending most of the day inside areas of the park that are far from the nearest restaurant.
Late Morning


HIGH ROAD
Shark Valley and its tram tour make a fine starting place for Everglades education. This slough is a prime spot for bird-watching and botany. Take in the beauty of this sawgrass prairie by hiking or biking. For $6.25 per hour, you can rent a bike (or bring your own) and pedal the 15-mile trail, dodging alligators as you go. Take a deep breath and scan the horizon at the 65-foot-high observation tower at the mid-way point and then loop back around. It's a bit of a hike, but you can take as much or as little time as you like viewing and photographing wildflowers, birds, deer, reptiles and whatever other wildlife happens to cross your path. Shark Valley also has two shorter (and more shaded) self-guided trails. Bobcat Boardwalk is a mile-long two-way hike along an elevated boardwalk through a sawgrass slough and tropical hardwood forest. The even shorter half-mile loop of Otter Cave Hammock Trail offers a quick land excursion along a limestone path through a tropical hardwood habitat. Both trails begin near the Shark Valley Visitor Center.
Shark Valley Visitor Center and Tram Tours – U.S. 41/Tamiami Trail 25 miles west of the Florida Turnpike exit for S.W. 8th Street in Everglades National Park, 305-221-8776 for Visitor Center open 9 a.m.-5 p.m., 305-221-8455 for Tram Tours; Tours at 9:30 a.m., 11 a.m., 1 p.m. and 3 p.m., $14.50 per adult and $8.75 per child; Everglades National Park admission $10 per vehicle – valid for 7 days at every entrance.
Midday
Ernest Coe Visitor Center
FOR YOUR INFORMATION
Head south on Krome Avenue from Tamiami Trail and turn right onto S.R. 9336. The 24-hour deli and snack bar at the Miccosukee Resort & Gaming complex makes a decent lunch stop, or try the handful of eateries along Krome. To continue your day of nature, follow S.R. 9336 to the Ernest Coe Visitor Center, just outside the park entrance. This is the park's main visitor center, a place to consult rangers about recommended hikes, pick up a map, or browse the exhibits on the history and habitats of the Everglades. There's also a separate exhibit room in the back that frequently displays Everglades art or photography. Before you head out to the trails, check for ranger-led hikes on the daily schedule and eat your packed lunch if you didn't already stop for some grub. Then it's off to the trails.
Ernest Coe Visitor Center – 40002 State Road 9336, Homestead, FL 33034; 305-242-7700; open 8 a.m. -5 p.m. November-April, 9 a.m.-5 p.m. May-October.
Afternoon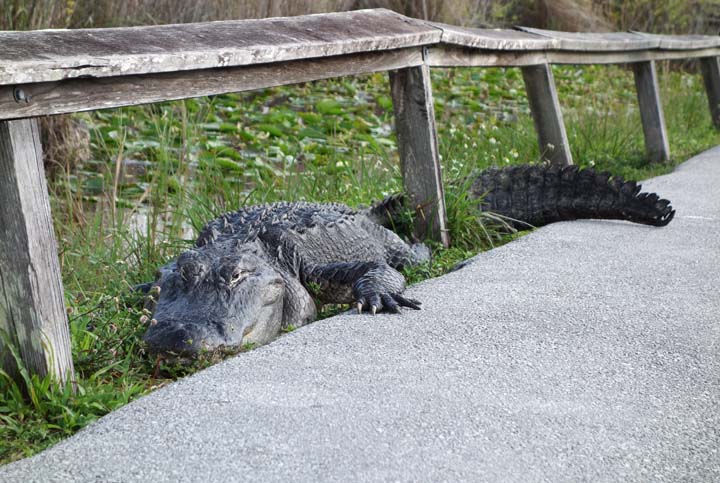 TRAIL MIX
Six trails branch out from the main road after you enter Everglades National Park. Park entry costs $10 per vehicle; $5 for pedestrians and cyclists. Hold on to your receipt, which is good for seven days and valid at all park entrances, and request maps or brochures before you leave the booth.
Four miles from the main entrance is the Royal Palm Visitor Center. Smaller than Ernest Coe, this center has bathrooms, water fountains, vending machines, and a tiny store selling a few supplies and snacks. The park's two most popular trails, the Anhinga and Gumbo Limbo trails, depart near here.
Start with the Anhinga Trail, a half-mile loop along an elevated boardwalk over a sawgrass marsh. Call ahead to see if rangers are leading the Anhinga Amble, a 50-minute guided wildlife tour offered at different times depending on the season. But walking solo can be just as much fun. Close encounters with turtles, herons, egrets, grasshoppers and alligators have made this trail a popular spot, especially during the dry season. The trail is sparsely shaded, but as the boardwalk winds through the tall grasses and over ponds, the animal life will seem worth the heat. Gator sightings are scarce during the rainy season, but listen to the constant chorus of gator grunts in the distance – a sure sign that you're not alone.
After the baking heat of the Anhinga Trail, the Gumbo Limbo Trail will seem like cool respite. This trail, shaded by a dense tropical hammock of Gumbo Limbo trees with red, peeling bark. Although hurricane damage has thinned the canopy somewhat, you'll still have to duck and dodge tree branches, vines and ferns encroaching on the narrow, paved path of the half-mile loop. Watch for snakes, lizards and leaping grasshoppers camouflaged by the leaves and brush on the hammock floor.
Once finished, continue for another three miles along the main road and stop at the Pineland Trail, another half-mile hike through a forest of towering pencil-thin pines and saw palmettos. This habitat, pruned back by occasional fires, stands apart from the lush, wet vegetation of the lower-lying marsh and thick tropical hammocks of other trails. Its rock lands showcase the rough limestone bedrock that lies beneath all of South Florida and form the park's most diverse ecosystem, which supports more than 200 species of subtropical plants.
It's a six mile drive down the road to the shortest trail of the day: the quarter-mile Pa-hay-okee Overlook. Stroll between the thick wooden rails of the boardwalk and survey the River of Grass from the shaded observation platform. The open view makes for wonderful Kodak moments.
The final trail of the day is

Mahogany Hammock. Twenty miles down S.R. 9336 from the main entrance, it's the farthest afield. Depending on your weariness from spending time on the other trails and your wariness of the Everglades wilderness at dark, you may have to save this trail for another day, or skip some of the other stops. If you do go, you'll enjoy a half-mile loop on an elevated boardwalk through a tropical hardwood hammock filled with gumbo limbo trees and air plants, plus Swietenia mahogany, the largest living mahogany tree in the U.S.
Ernest Coe Visitor Center/Main Park Entrance – 40002 State Road 9336, Homestead, FL 33034; 305-242-7700; open 8 a.m. -5 p.m. November-April, 9 a.m.-5 p.m. May-October. Call for information on ranger-led activities at Royal Palm. Royal Palm Visitor Center, open 8:00 a.m.-4:15 p.m. daily
WATER TOUR
More than a third of Everglades National Park lies under water, so reserve some time to explore the shallow waters by canoe or kayak, peacefully watching wildlife among the marshes and mangroves deep in the heart of the park. Bring your own canoe or kayak or rent one at the Flamingo Marina Store at the very south end of the S.R. 9336. Flamingo sustained heavy damage during the 2005 hurricane season, and the restaurant, lodge and cabins here remain closed. The Flamingo store is still open for basic supplies, but rental services are not always available, so call ahead to check: 239-695-2945
About 30 miles from the park's main entrance on S. R. 9336 is Nine Mile Pond, a 5-mile loop through marsh and mangrove clusters. Observe alligators, wading birds, turtles, fish and other animals in their natural habitat as you paddle. The trip should take about four to five hours, but there's an optional shortcut at Marker #44 that will shave about 1.5 miles off the route.
Two miles down the road from Nine Mile Pond is the Hells Bay Canoe Trail, an 11-mile two-way trip up and back through a series of ponds and small bays. Navigating the maze of mangrove-lined creeks and swamps can be difficult, so try your best to stay on course and follow the white PVC pipes that mark the trail. Keep an eye on the reddish knots and twists of mangrove roots to see crabs, snails and anoles. Alligators tend to avoid nesting in mangrove areas, but they often venture into clearings to feast on the fish there, so be careful. The trip should take you six to eight hours, paddling at a leisurely pace. There are two sheltered chickee pavilions and a ground site for camping along the trail, but you need a permit to use them. Call 239-695-2945 if you're interested in an overnight stay. For a shorter paddling loop, try the nearby Noble Hammock Trail-the two-mile loop should only take an hour or two.
Last on the list is the West Lake Canoe Trail. This 15.4 mile round trip to Alligator creek (7.7 miles each way) goes through a series of lakes, ponds, and narrow mangrove creeks and will take most of the day. Highlights here are the wild orchids and bromeliads – not to mention both alligators and crocodiles.



Tip: All trails are marked with white PVC pipes sticking up in the shallow water. During summer, stay clear of tree islands and mangrove tunnels, as they're home to swarms of mosquitoes and other bugs. Always call the park to check trail conditions before you head out-hurricane damage or low water levels during the dry season months can make trails impassable.
Evening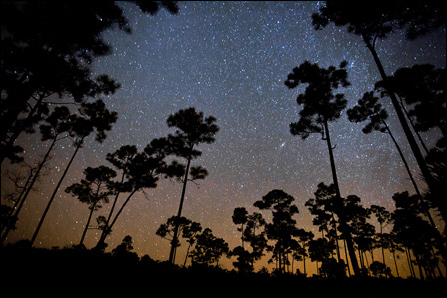 PITCH BLACK
The Everglades are a different place at night, and the park offers many choices for after-dark exploration: midnight bike rides, tram tours or campfire chats with park rangers. The slate of ranger-led programs changes weekly, so call ahead the park's visitor centers to get the latest schedule. Night activities are usually only offered in the dry season, starting in January.

Shark Valley Visitor Center and Tram Tours – U.S. 41 (Tamiami Trail) 25 miles west of the Florida Turnpike exit for S.W. 8th Street in Everglades National Park, 305-221-8776 (Visitor Center) open 9 a.m.-5 p.m.
Ernest Coe Visitor Center – 40002 State Road 9336, Homestead, FL 33034; 305-242-7700; open 8 a.m. -5 p.m. November-April, 9 a.m.-5 p.m. May-October.
Gulf Coast Visitor Center – 5 miles south of U.S. 41/Tamiami Trail on State Road 29, in Everglades City; 239-695-3311; Open 9:00 a.m. to 4:30 p.m. daily in summer and 8:00 a.m. to 4:30 p.m. daily in winter.