Where to go for ghoulish family fun in Miami
Some parts of Miami are creepy year-round, and this month is a great time to get acquainted with the places in town that are shrouded in mystery. October's Miami Attractions Month offer of 2 for 1 admission is, well…attractive, so the spookishly ghoulish Halloween-themed events at several of them are an added bonus (though not all of the events are included in the deal). Whether you want to hang at the zoo with your kids, visit the ruins of a castle built by a spurned lover or trick-or-treat at the zoo, read on and get that costume ready:
So there's no Halloween event happening here but perhaps that's because just visiting this attraction is a mysterious and quirky experience. The concept behind the castle's creation is downright creepy. Seems like the castle's creator Ed Leekskanlin, built the massive structure and its many moving parts for his fiancée who ditched him just days before the wedding. Walk through and wonder how a small, slender guy like Leekskanlin carved the massive coral rock rocking chairs or the nine-ton gate that moves with the touch of a finger. 28655 S. Dixie Hwy., 305-248-6345. 
Bring the kids here on Halloween weekend (their events are Oct. 29 and 30 since Halloween's on a Monday night). They'll love walking through checking out the various cool animals and enjoying the knock-knock jokes at the trick or treat doors throughout the island. Scarecrows and shows with cool creepy creatures make up part of the festivities and come in costume for the contest. 1111 Jungle Island Trail, 305-400-7000.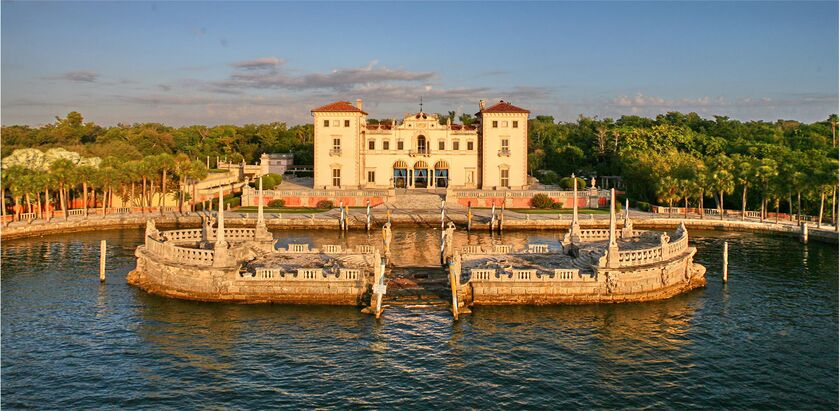 The historic mansion of James Deering is a marvel to visit and has killer bayfront views but it does have its creepy elements. Perhaps when you take advantage of the October BOGO admission, as you're meandering the open courtyards, you'll sense Deering's ghost walk right alongside you. He's probably making his way to the kitchen to ease his anemia with some protein from the fridge. If you want to witness a host of costumed ghouls pacing the property, head to their annual Vizcayans Sundowner party, one of Miami's most popular parties, which will afford you a chance to experience the property late at night (tickets for this event are separate). 3251 S. Miami Ave., 305-250-9133.
Proudly boasting they're ranked as one of the top 10 zoos in the country and c'mon, Zoo Miami is pretty cool, they always keep it creepy for Halloween. The kids can enjoy the Zoo Boo Oct. 29 and 30 with Zombie-laden tram rides, Dr. Wilde's Creepy House, treat bags, candy stations and animal encounters (some attractions have additional fees). Grown ups can hit the adult Monster Masquerade on Oct. 21 and for and Spooky Zoo Nights Oct. 28, 29 and 31 (both of these have their own admission fees). 12400 SW 152 St., 305-251-0400.
Just like Zoo Miami, Pinecrest Gardens is fun for both kids and adults around Halloween. Oct. 28 you can watch the campy romp fest Rocky Horror Picture Show with Tim Curry in all his drag queen glory, a young Susan Sarandon and Barry Bostwick who have no idea what they've gotten themselves into and the rest of the Halloweenish cast of characters. On Oct. 30 the attention turns to the kiddos for Howl-O-Ween, a pet-filled day with a dog parade and fun zone plus pumpkin patch, arts & crafts, games, costume contests and parades. 11000 Red Rd., 305-669-6990.
At the Miami Children's Museum the little ones can get in the spooky spirit from Oct. 25-30 with MiChiMu's Halloween week, where kids can test their bravery walking through a Haunted House, get their nerd on at the Mad Scien

tist lab and get crafty creating take-home Halloween arts and crafts. On Oct. 16 they host their Not So Scary Family Halloween event, (tickets sold separately). 980 MacArthur Cswy., 305-373-5437.
You wouldn't normally associate the iconic Miami Seaquarium attraction with Halloween but for years now, they've been hosting Monster Splash Weekend. Oct. 29 and 30 with trick or treating at Sharky's Sweet Tooth Stations set up around the park and Halloween-themed marine animal shows. 4400 Rickenbacker Cswy., Key Biscayne, 305-361-5705.