8 Reasons to Fall In Love With Little Havana and Calle Ocho
From the strains of salsa music that spill from storefronts to the iconic ventanitas that dispense potent doses of Cuban coffee – and even more potent political discourse – you'd be hard-pressed to find a Miami neighborhood more, well, Miami than Little Havana.
Changing demographics and the ever-shifting geopolitics of our hemisphere has meant that the neighborhood is also now proudly home to not only Cubans, but Nicaraguans, Hondurans, and other immigrants from the Caribbean and Latin America. But it will forever remain the spiritual center of Miami's Cuban exile community, both burdened and blessed by history and circumstance.
Where else can you find street art that celebrates both dissident Cuban blogger Yoani Sanchez and Pitbull?
Here's just a few reasons why we will always have big love for Little Havana:
1. Los Viejitos
Drop in to Máximo Gómez Park, named for a 19th Century Cuban military hero and also known as Domino Park, to find a regular crew of elderly gents sipping Cuban coffee, playing dominoes, and arguing about politics – and not necessarily in that order. But don't let their gentlemanly demeanor and silvery hair fool you: They, by and large, have some badass stories to tell. (Living through revolution and exile will do that.) If you stick around long enough, one of them will eventually tell you a joke so unprintably dirty it would make even the battle-hardened Gómez blush.
2. That Ginormous Cock
The Grove can keep their stately peacock statues. No avian-inspired art installation better represents our civic pride more than the 70-pound fiberglass cock of the walk – or gallo – bedecked in the colors of the American and Cuban flag, who stands sentinel in front El Pub Restaurant. He is alternately beloved, maligned and Instagrammed in equal measure. Much like Miami itself.
3. Ball & Chain
Like most everything in Miami, the swinging bar and live-music venue on Calle Ocho has a dubious past. First opened in the 1930's, its history includes a clientele that represented the finest of Miami's criminal underbelly and a shady repertoire of former owners — one of whom was sued for said shadiness by the legendary Count Basie. New owners Bill Fuller and brothers Zack and Ben Bush have kept the place legit, resurrecting the bar's architectural charms (and great mojitos) and keeping the now-trademark neon sign aglow since 2014. Can't make it out to Little Havana? This year the club began broadcasting a live jazz radio program on WDNA, which features live performances from the Ball & Chain stage.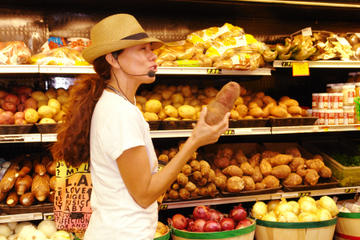 4. Seeing It Like Tourist
Little Havana may be the spiritual center of Miami's exilio, but most mocoso (snot-nosed) second- and third-generation Cuban-American kids from Pembroke Pines to Pinecrest only know it through their parents nostalgic stories. Time for a Little Havana crash course, jovenes. Why not see it as a non-native? While double-decker bus tours routinely disgorge out-of-towners  in front of landmarks like Versailles and load them up on José Martí snowglobes, your best bets are walking tours like the Little Havana Food Tour or ones conducted by  historian Dr. Paul George, who is arguably as much of a local legend as Versailles itself.
5. Azucar Ice Cream Company
This is the perfect place to bring your kids…then promptly forget that you even have children as you selfishly gorge yourself on sample-size scoops of Willy Cherrino ice cream, leaving your offspring to wander out onto the sidewalk, horrified and embarrassed by you. It's that good.  Crowd favorite: the Abuela Maria, vanilla ice cream laced with cream cheese and crushed galleticas María. Dios mío!
6.  La Casa del los Trucos
Pop quiz: It's mid-April and you have an unspeakable urge to dress up like Gen. Dwight D. Eisenhower. Or a zombie nun. Or a Tyrannosaurus Rex. Amazon Prime takes too long. Halloween stores have been closed for months. Where do you go? Answer: La Casa de los Trucos (loosely translated to "House of Costumes") which has catered to the suspiciously elaborate masquerading needs of Miamians for four decades, 12 months out of the year. Also, it sounds like you have some very specific and interesting hobbies we would like to know more about.
7. Wake and Bake
Probably the second-most argued point in Cuban Miami – next to if and when Fidel might kick the bucket (he did in 2016) – is where to get the best pastelitos. No disrespect to the collective pastry game of Coral Gables or Westchester, but for pure old-school authenticity, it's worth a Sunday morning trip to the panaderías of La Pequeña Habana, like Bon-Bon Bakery at 300 SW 17th St. (No link, sorry – did you think they'd have a website? Ay, por favor.)
8. Walk of Fame
Step outside Domino Park and you'll see the pink marble stars of the Calle Ocho Walk of Fame, which honors more than two dozen Latin stars, who have left an indelible mark – if not on Little Havana itself, then at the very least on the people who claim this stretch of Miami as their own. Boxer Roberto Duran is here. So is radio personality Martha Flores, and "Cuban Oprah" Cristina Saralegui. Gloria Estefan, obviously. Of course, no pilgrimage to Little Havana would be complete without a stop at the star honoring the legendary Queen of Salsa, Celia Cruz. Be sure to solemnly toast her, and the rest of her generation, with a mojito — or better yet, a Cuba Libre – from your bar stool at Ball & Chain.