8 things to do with your kids before school starts
PHOTO MIAMI, FL - February 09: Frost Science Overnight Adventure on February 09, 2018 in Miami, Florida. (Photo by Sergi Alexander / Eyeworks Production).

Sergi Alexander Eyeworks Product
We have entered the "dog days of summer," that in-between time when camp has ended and school hasn't yet started. So whether you're playing "parent camp" for one or two weeks (or your kids don't start school until after Labor Day making you #blessed) we've got you covered with kid-friendly activities that will keep everyone happy.
4. Silverspot Cinema Miami


Does your family love going to the movies? And do you love reclining in a plush oversized chair while someone brings you gourmet bites and craft cocktails? Then the swanky new Silverspot Cinema that just opened downtown is worth a visit. The upscale theater is actually massive but has an intimate feel comprising 70,000 square feet and six floors, and is located at Met Square (across from Whole Foods downtown).
First, there's the free "selfie photobooth" in the lobby that is a huge hit with the little ones (and provided a necessary distraction as we had some time to kill before our movie started).  Then there's the extensive menu of in-theater dining like ricotta and truffle flatbread, BLT lobster rolls, burrata and tomato bisque and coconut cake. Of course the young folk will love the chicken tenders and fries and mini-sliders, but there are also a handful of salads and some lighter offerings. There are dozens of cocktails offered including flavored mojitos and margaritas plus beer and wine. My kids loved using the electric recline button on the chairs and spreading out with their twizzlers and popcorn on the attached tray tables. Plus, since the theater is still relatively new we had a practically-private screening room for our weekday day-time movie.
Pro tip: park at the Met3 building and get your parking validated at the theater for an $8 rate.
300 SE Third St., Miami; 305-536-5000
300 SE 3rd St, Miami,
5. Gecko Parx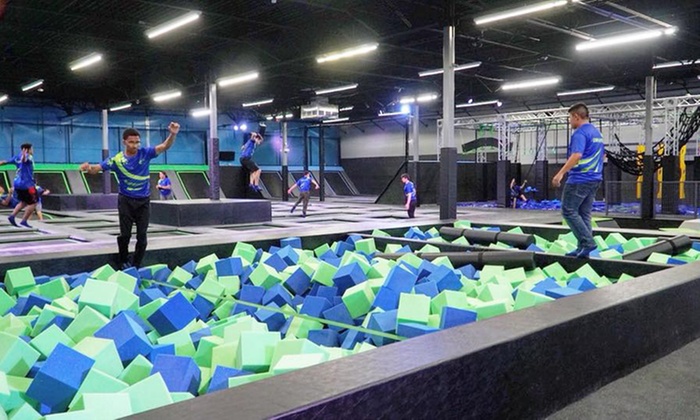 Gecko Parx in Weston.
Rainy days (or incredibly hot days) call for indoor play spaces where the kids can bounce off the walls (literally) and parents can lounge with free wifi. Luckily the new Gecko ParX achieves all these things and more: the brand-spanking new center features 40,000 square feet of activities with a main trampoline court with interlocking trampolines, a vast arcade, two basketball slam dunk courts, a custom Soft Play playground for toddlers, two trampoline dodgeball courts, and a multi-attraction pit that features jousting and a slackline.
Other features include a ropes course and a speed rock-climbing wall that encourages guests to compete for the fastest climb. Gecko ParX also houses a modular two-lane ninja warrior attraction with connected parkour course. Additionally, there is a café shop with a variety of food and beverage options including pizza, wings, soft drinks, desserts and more. Beer and wine is available for adults. A lounge for parents includes seating areas with massage chairs, electrical outlets to plug in any device and a panoramic view of the venue.
3305 Corporate Ave., Weston