The Drawing Room Bar & Lounge serves up one of South Beach's most unique drinking experiences
Chris Norton & Jakob Tremmer (photo/The Drawing Room)
You won't find a traditional happy hour at The Drawing Room Bar & Lounge, located inside the Shelborne Wyndham Grand South Beach. It's called Prescription Hour here, and Monday-Friday from 5-7 p.m. the apothekers behind the bar will gladly prescribe you any number of alcoholic aphrodisiacs, stimulants, pain killers, or euphoric enhancers to suit your fancy. Far from your typical hotel lobby bar, The Drawing Room is the brainchild of master mixologist Albert Trummer. It's his third "pharmacy bar" after the wildly popular Apothéke in New York City and his SoBe pop-up Drogerie, which Trummer always viewed as a lead-up to The Drawing Room.
At 6:30 p.m. on a Friday, the bar is nearly empty and cozily quiet. Cocktail Chef Chris Norton and another apotheker are hard at work prepping ingredients behind the bar, occasionally wowing passersby with the deft toss and flip of a shaker. Little by little, though, the space begins to fill.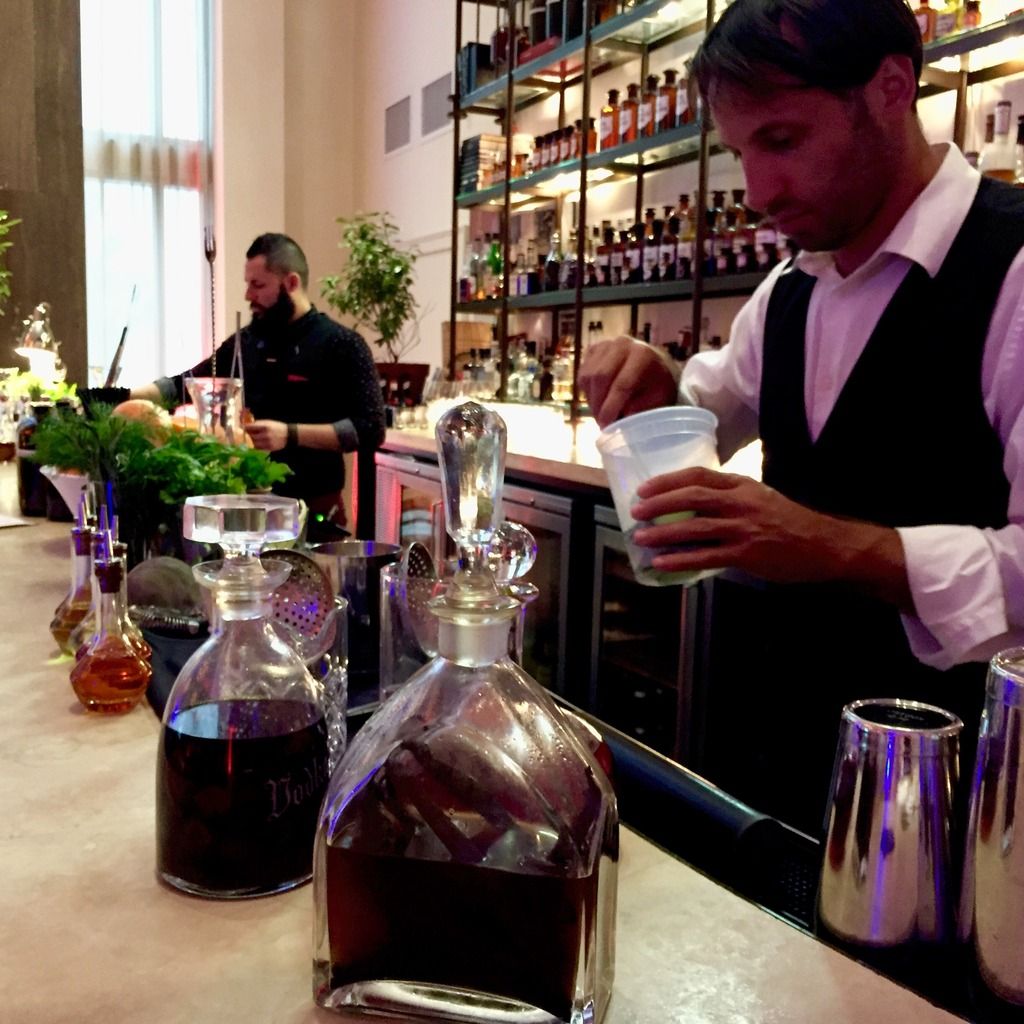 Trummer makes his rounds greeting patrons and recommending "remedies" for their ailments. He starts us off with a "stimulant" called Five Points, a refreshing blend of NY grape, Kappe Pisco, Austrian Elderflower essence and house-pressed sugar cane juice ($16, pictured below).
With each drink, the atmosphere becomes more luxurious and the presentation more elaborate. Carefully selecting, swirling and sniffing medicine vials filled with precious elixirs and natural essences for his cocktails, Trummer looks every bit the dedicated alchemist. After we make our way through some Parmesan Fries ($3) and Beef Sliders ($7), he hands us a golden mystery tequila drink infused (in-house, of course) with fifty ancient healing herbs. He stops us before we take a sip and dabs our wrists with a dropper containing a very rare and expensive essence of bergamot he says can only be purchased in the south of France. We're instructed to rub our wrists along the rim of our glass and sip slowly as the bergamot opens up the flavor profile of the tequila. The result is a heavenly potpurri of tastes and smells that engages multiple senses (below).
Trummer isn't the only one at The Drawing Room who guards the secrets of his art. Cocktail Chef Chris Norton is equally shrouded in mystery: he's reluctant to name his specialty drinks and only grudgingly reveals the key ingredients in them ("There are a lot of copycats out there," he says with a raised eyebrow). Our favorite, which isn't on the menu, used to be called "Grapes of Wrath" (pictured below). We promised not to reveal all the ingredients, but we will say it features Absolut Elyx, fresh grapes, orange zest and thyme.
We also fall in love with the Gin & Tonic from the Market (Bombay Sapphire gin, infused with select herbs, cucumber and fresh lime – first, below), and the Strawberry Fennel (Kettle one, fresh strawberries, lime infused sugarcane extract, orange cognac elixir and fresh white and green fennel – second, below). Both are priced at $10 during Prescription Hour.
By the time our server brings us dessert (a flaming ball of dark chocolate sorbet and a deconstructed key lime tart with liquid nitrogen ice cream from the hotel's Morimoto restaurant), the Drawing Room has transformed into a crowded lounge. Dewy purple and cream lights flood the space, bathing attractive (mostly female) patrons in a warm glow.
The team behind the bar works at hyper-speed as a gaggle of bachelorettes call for champagne; flutes are stacked precariously in a pyramid and a resounding pop echoes over the music as Trummer slices the nose off a bottle with a flaming (yes, flaming) knife and pours the bubbly over the tower of flutes.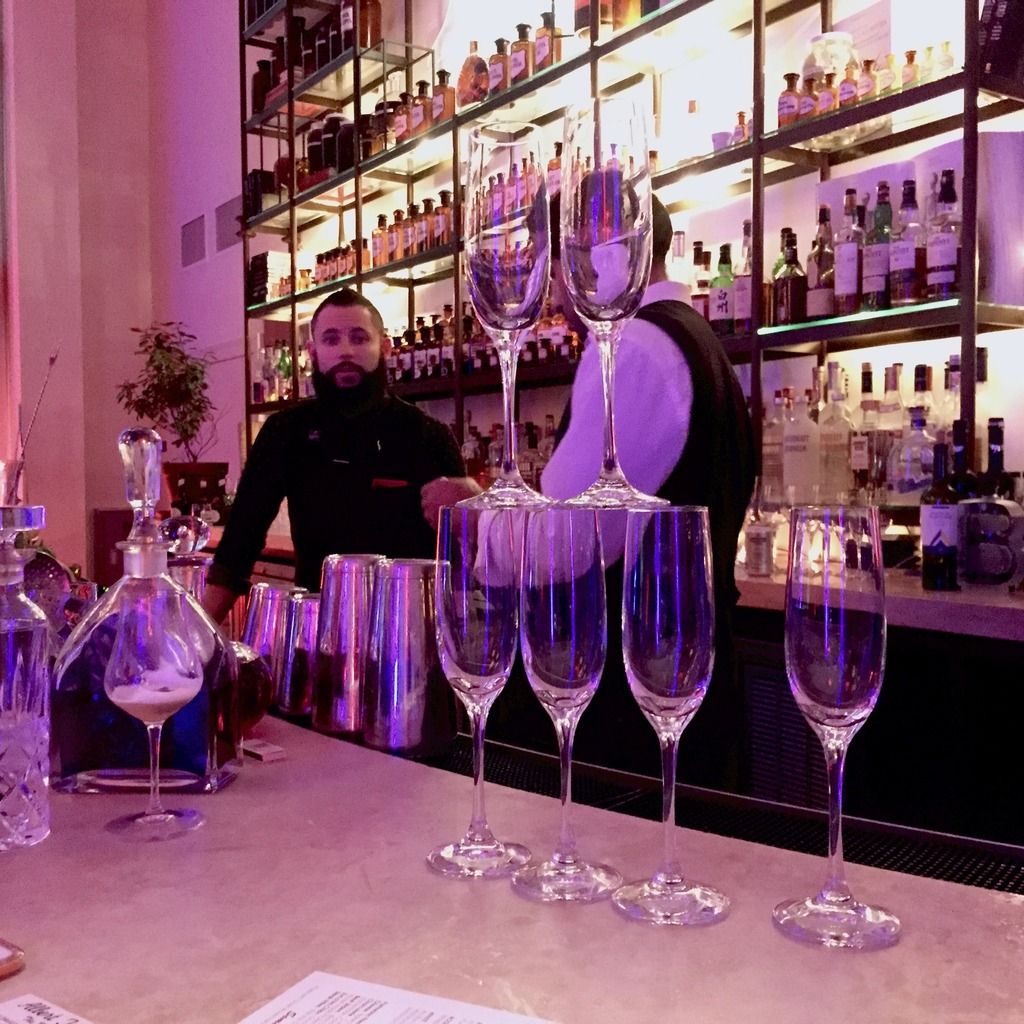 Meanwhile, Norton is busy breathing fire in the background.
Nothing at The Drawing Room is expected. Guests who wander in looking for a chic place to pre-game before hitting the clubs usually end up staying long into the night, captivated by the staff's endless arsenal of breathtaking behind-the-bar stunts and Trummer's deliciously subtle yet fast-acting potions. Overall, this hidden gem is a must for anyone in search of a spot that offers the upbeat energy of a club, the posh intimacy of an upscale lounge, and unique libations to rival any of Miami's designer cocktail dens.
Other notable cocktails include:
Aztec Medicine – (below) Bacardi 8, fresh pineapple, cilantro elixir, vanilla elixir, habanero elixir and angostura bitters, $15
Hemingway Special – (below) Zacapa 23, mint, lime infused sugarcane extract and vanilla elixir, $15