Miami Beach loves this Asian-Latin fusion spot. Now it goes high-end with a new hotel restaurant.
Chef José Mendín tries his hand again at a high-end hotel restaurant. He partnered with Sergio Navarro, Maximiliano Silva and Juan F. Ayora, of the newly formed Food Comma Hospitality Group (FCHG), to create Habitat at the 1 Hotel. Chef Angel Palacios, a one-time Food & Wine Best New Chef, helped develop the menu with Mendín, but returned to Spain "due to unforeseen circumstances with his businesses there," the restaurant reps said.
The space


Housed in the former Beachcraft space at the eco-friendly 1 Hotel, the restaurant still exudes eco-chic with a serene loft-like space that is outfitted with terrariums and flowers, whitewashed woods, white ceramics and a massive open kitchen festooned with greenery and produce. A raw bar now graces the square bar, and there are plans for a second-floor cocktail lounge and private dining.
Craving a cafecito?


Part of the new offerings include a retrofitted vintage trailer parked on the outdoor patio serving up Cuban coffee drinks and pastries.
Be prepared to eat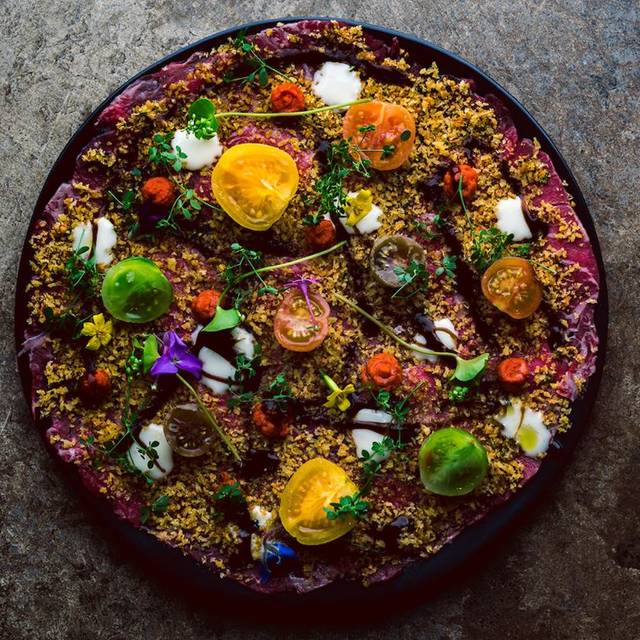 Seafood rice at Habitat.
Everything from tapas to molecular gastronomy to rustic takes on Spanish staples. There's an extensive raw bar with seafood flown in from Spain and the Mediterranean as well as an extensive charcuterie selection and a mobile salad station. Prices are on par for the luxury hotel with small plates ranging $14-$19 and larger mains $22-$42.
Oyster at Habitat.
Start off with the Heirloom Beet Tartare served with endives, crème fraîche, pistachio and raspberry and Artichoke Carpaccio with vanilla oil, macadamia nuts and water chestnuts. The Wagyu Milanesa Cruda presents paper-thin slices of beef topped with black soy, pickled romaine and tomatoes while the salt-cured foie gras is a slab of decadence.
Salt-cured foie gras at Habitat.
The meatballs made with baby squid, squid ink and Catalonian picada is possibly the most challenging dish on the menu but one that exemplifies the genre-defying cooking going on.
A 15-foot wood fire grill in the open kitchen is leftover from the Tom Colicchio days and is used for hearty dishes like veal marrow with shallots and Spanish octopus with potato foam and pimentón oil.
Pastry chefs Maria Orantes and Patricio Larrea, a protege of world-renowned pastry chef Oriol Balaguer, execute sweets like the bread pudding made with sweet potato "pie" custard, caramelized miso, chai tea ice cream and black sesame and Ningyo Yaki, a Japanese apple pie flavored snack cake.
Bottom line


Jose Mendin's first project with his new hospitality group is an ambitious spot that toggles between rustic Spanish and inventive cooking.
Habitat at the 1 Hotel South Beach


305-604-6700
2395 Collins Ave Miami Beach