Buy these things for a killer summer Instagram
We know, we know, your Instagram feed is already killer — a bonanza of decadent meals, brilliant sunsets and perfectly poised centerpieces. But summer brings with it a whole new slew of Insta challenges and you'll need some accessories to become a photo ninja. Here we have everything you'll need to craft the perfect beach setup for your personal gallery.
Mark Your Territory


"Roundies," those funky round towels done up in cool patterns are taking beach setups to a whole new level of boho-induced loveliness. The most coveted beach towel of any self-respecting Tulum resort goer, these thick woven blanket-style towels are multi-functional too, serving as beach blankets, wraps and of course – fantastic photo subjects. We are loving Miami-based Turkish towel company BASK's printed roundie in this Turkish tiles-inspired blue and white pattern.
For something a little more nautical there's this Laura Ashley Ahoy picnic rug with a nifty carrying strap. It will add a nice preppy backdrop to your pics.  And if a traditional terrycloth towel is more your thing, go for The Original Miami Beach Towel Co.'s green leaf towel in a thick luxurious weave.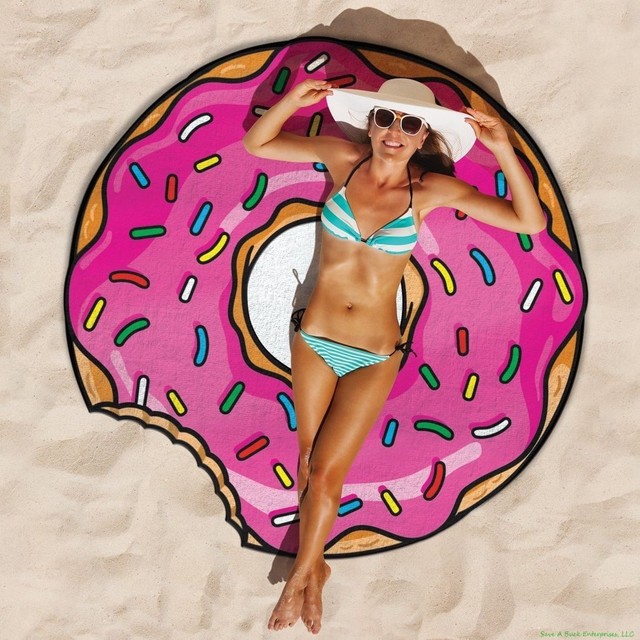 But sometimes you just have to give in to what the internet wants and lay on that pink sprinkle doughnut towel. Because, doughnuts. And bikinis.
It Totes a Beach Thing


Your bag should figure prominently in the shot, of course. We're opting for this Fairview tote from Parkland because its flamingo print is so Miami. The fully-lined interior and multiple organizational pockets will keep all your beachy goods in place.


For a more refined look go for this reversible tote from Miami-based designer Miansai. Made from durable navy and off-white canvas with reinforced leather trim, the bag features an exterior zip pocket and the brand's signature rope handles. Handsome and minimalist, it can go from the beach to brunch and still house all your essentials.


For a little cheeky fun, go with Pinkly Perfect's Cape Cod Pouch. Made in the USA, this custom-printed bag will keep your cell and sunnies sand-free while you frolic in the waves.
Isola's wet bathing suit bag is a plush terry monogrammed bag lined for durable use – perfect for your wet bathing suits after a day at the beach or as a pouch to hold sun tan lotions.
Miansai, 1800 N Miami Ave, Miami, FL (305) 375-8132
Get Propped


Last year's ubiquitous Instagram summer hit was no doubt the massive inflatable swan floatie which is why this year you need to step up your game. And by that we mean, get an artist to design your floatie. The FUNBOY x Kelcey Fisher (KFiSH) Artist Designed green and white Swan features tribal print perfect for adding some color to your feed. Silk screened by hand on heavy duty vinyl this bad boy only takes two minutes to inflate with a hair dryer. Whimsical and edgy, it's the perfect visual counterpoint to all that sand and surf.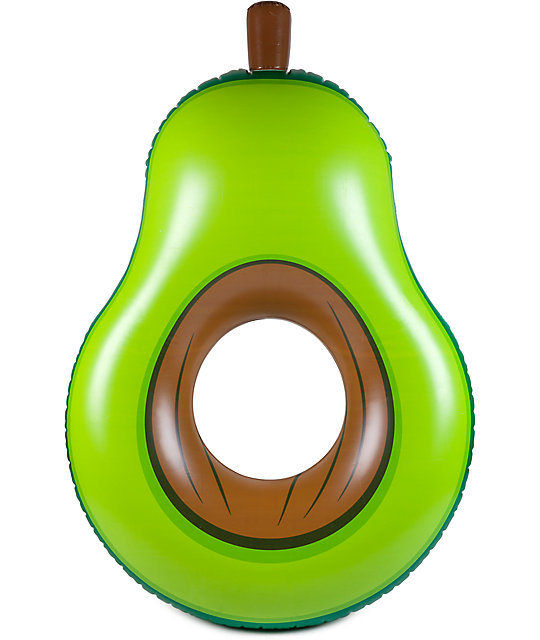 If you're not into the swan thing but still want something funky and playful check out BigMouth Inc.'s colorful floaties in things like pizza slices, avocados and those pink sprinkle doughnuts everyone can't seem to get enough of. The avocado rendition is five hilarious feet long and already has the pit removed, making it the perfect spot for that boo-tay to relax all summer long. For the guac lovers out there, it's a must-have.
Not to be outdone by fancy swans or floating avocados, Kim Kardashian introduces her own line of pool floaties, this one shaped like a butt, obviously. Available on her Kimoji site, this cheeky flotation device will cause quite a splash on social.
Throw Some Shade


Want to look like Tom Cruise in Top Gun? Aviators are coming back big this season and the Maverick conjures those '80s vibes nicely. We are also loving Under Armour's Double Down with lenses that block 100 percent of UVA, UVB & UVC rays.




Not really into the aviator look? Go for these clear-framed sunnies from SPY, the oldest independent eyewear brand in the U.S. The crystal clear frames are made of handcrafted acetate and features the brand's Happy Lens, the only therapeutic, color and contrast enhancing lens that can make you feel and perform better.
Mind the Technology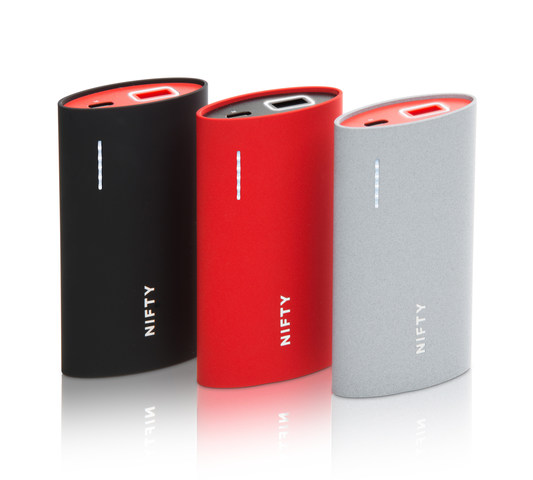 Nothing kills the buzz of an epic Instagram shoot like a dying phone battery (if it doesn't post on social media did it even happen?!). So the NIFTY mobile charger is definitely a beach must-have.  We'll spare you the boring details, but rest assured the NIFTY contains innovative tech that allows it to charge your mobile devices (including smart phones, tablets, cameras and the newer MacBooks) at their fastest possible charging speeds thanks to it's smart circuitry- the first of it's kind available. It also has a light-up USB port (first in the world), which makes it easier to use in low-light conditions, and is button-less with a power level indicator that also lights up. Plus, it comes in three great colors!
Mind Your Skin


Pixi's Sun Mist is a brand new broad spectrum SPF 30 sunscreen mist. It's a super lightweight formula that you can use throughout the day – meaning it can be applied before OR after your makeup. In addition to protecting your skin from UVA & UVB rays, it also has anti-aging ingredients to help produce collagen, condition & soothe the skin.
Miami Beach-based Raw Elements USA Certified Natural Sunscreen was developed by Brian Guadagni, a 20+ year Ocean Rescue lifeguard. While on a quest for a safe and effective alternative to chemical sunscreens, he ultimately realized that one did not exist. Brian felt a responsibility to his loved ones and others to find a natural solution. Raw Elements sunscreens utilize 23% non nano zinc oxide and certified organic ingredients. The line is gentle enough for use in infant care yet meets the performance demands of the most extreme athletes.
G.M. Collin SPF 50+ Dry Touch Sun Protection Cream, a broad-spectrum, water-resistant sunscreen helps prevent sunburn on both the face and body.  Formulated with chemical filters to leave a light and dry finish without the white residue on the skin. Paraben-free and suitable for all skin types.
Amarte Ultra Veil Sunscreen (SPF 50+) is a unique blend of four highly regarded physical and chemical sunscreen agents create an aesthetic veil to protect skin exposed to sunlight. Ingredients such as ginkgo biloba nut extract, mesima mushroom, rooibos, tormentil root, skullcap and wild thyme protect and condition skin, offer antioxidant and anti-inflammatory properties and help promote positive collagen and elastin balance.
Deerfield Beach-based Dr. Jason Green is a skin cancer specialist, and developed his own brand of sunscreen. According to Dr. Green, your sunscreen must contain zinc oxide in order to physically block the sun's most harmful, cancer-causing rays. His specially formulated oil-free sunscreen is Broad Spectrum SPF 30 with an active ingredient of Zinc Oxide 17%.
Miami Gorgeous  is a new line of sun care products that uses all-natural and organic ingredients to keep you safe in the sun. The 100% organic LaPlaya Zinc Sun Stick provides broad spectrum UVA/UVB coverage and soothes skin without greasy residue.
Chuda Sheer Hydration Lotion Broad Spectrum SPF 30  is a therapeutic, anti-aging SPF cream formulated with the healing power of Chuda's exclusive Remedea Compound. The Remedea Compound is a centuries-old healing skincare secret that contains antiseptic, anti-inflammatory and healing properties through ingredients sourced from Georgia's Caucasian mountain range. The rapidly absorbing formula is enhanced by medical grade skin care actives to create the optimal environment for skin health.  The lightweight and non-greasy formula glides onto the skin effortlessly, perfect for daily wear under makeup.
The HydroPeptide Anti-Wrinkle + Protect Collection provides effective UVA, UVB and Infrared protection while incorporating a luxurious experience that enhances any regimen. Anti-Wrinkle + Protect consists of Solar Defense Tinted SPF 30, Solar Defense Non-Tinted SPF 50 and Solar Defense Body SPF 40 with 80 minutes water resistance.
C2 California Clean Lip Conditioners give your lips what they have been craving – an anti-aging lip conditioner that has been proven to replenish, repair and nourish. This lip conditioner is packed with rich natural oils to bring back the life in your pucker. With extracts of Vitamin E, Aloe and Shea Butter the ultra-hydrating moisturizer Zoella Beauty Wondrous Whip will leave your skin looking, feeling and smelling radiant.