13 events in Miami this weekend not to miss - May 13-15
Friday, May 13
FLOWER POWER
REDLAND INTERNATIONAL ORCHID SHOW
You want the best selection of orchids in America? Experience the joys of these floral jewels at the largest annual orchid show in the United States, featuring more than 50 booths of exhibits and orchid vendors, plus lectures, raffles and yummy international food.
Details: 9 a.m.-5 p.m. Friday and Saturday at the Redland Fruit & Spice Park, 24801 SW 187th Ave., Homestead; 305-247- 5727 or www.fruitandspicepark.org; $10.
"GORE" TOUR
DEFTONES
Grammy-winning art-metal band that masterfully combines raging aggression with staggering beauty takes the stage in support of its eighth studio album "Gore," which hit N0. 2 on the Billboard 200. You'll also hear faves including "Change (In the House of Flies)," "Digital Bath," "Minerva," "Diamond Eyes," "Tempest" and "Hole in the Earth."
Details: 7:30 p.m. Friday at Pompano Beach Amphitheater, 1806 NE 6th St., Pompano Beach; Ticketmaster; $34.50-$49.50.
MARIONETAS DE LA ESQUINA
WHAT IS IT?
The entire family will be mesmerized by this "musical without words" – "¿Qué Es?" or "What is it?" – that explores the world of the unknown as a seemingly insignificant table cloth comes to life. Four friends, more curious than afraid, follow this unknown creature into his world in several short stories that allow the audience to explore the inner world of a young child full of adventure, where everything is new yet again.
Details: 7:30 p.m. Friday, 2 and 7:30 p.m. Saturday, and 2 p.m. Sunday, at the Adrienne Arsht Center for the Performing Arts, Carnival Studio Theater, 1300 Biscayne Blvd., Miami; 305-949-6722 or www.arshtcenter.org; $25.
A REAL STAND-UP GUY
ROB SCHNEIDER
"Saturday Night Live" alum, frequent collaborator with Adam Sandler, and star of the Netflix series "Real Rob" returns to his first love, doing stand-up comedy.
Details: 8 and 10:30 p.m. Friday, and 7 and 9:30 p.m. Saturday, at the Fort Lauderdale Improv, 5700 Seminole Way; www.improvftl.com; $30.
Saturday, May 14
THE REAL DEAL
JAZZ AND BLUES JAM 2016
Inaugural music festival definitely kicks off with a bang with Rock and Roll Hall of Fame blues guitarist Buddy Guy, who heavily influenced Jimi Hendrix and Eric Clapton, among many others, and has won seven Grammy Awards, including this year's Best Blues Album for "Born to Play Guitar." Also on the bill: jazz-funk-fusion virtuoso guitarist Lee Ritenour; the Godfather of British Blues, John Mayall; and bass legend Victor Wooten, featuring drummer Dennis Chambers (Parliament/Funkadelic, Santana), sax-man Bob Franceschini and fellow bassist Anthony Wellington.
Details: Gates open at 3 p.m. Saturday at the Sunset Cove Amphitheater, 20405 Amphitheater Circ., Boca Raton; www.eventbrite.com; $75-$85.
SEASON FINALE
CIRQUE DU DANCE
Creative Dance Studio presents this spectacular end of the year event featuring dancers from as young as 2 to advanced adult performers bringing the acrobatic excitement and wonder of the circus to the stage.
Details: 7 p.m. Saturday at Miramar Cultural Center / ArtsPark, 2400 Civic Center Pl., Miramar; www.miramarculturalcenter.org; $30-$40; lap tickets available for children 2 and younger.
SPRING GALA
ARTS BALLET THEATRE OF FLORIDA
Under the direction of Ballet Master Vladimir Issaev, Arts Ballet Theatre ends its season with a classical repertoire that only the best dancers can perform, including the most famous classical Pas de Deux and neo-classical pieces by Issaev, guest choreographers and international dancers.
Details: 7 p.m. Saturday at the Aventura Arts & Cultural Center, 3385 NE 188th St., Aventura; 305-466-8002 or www.aventuracenter.org; $30.
JAZZ IT UP
KURT ROSENWINKEL QUARTET
South Florida Jazz presents one of the most influential contemporary jazz guitarists and his unique improvisational style, teaming up with pianist Aaron Parks, bassist Eric Revis and drummer Nasheet Waits.
Details: 8 p.m. Saturday at the Miniaci Performing Arts Center, 3100 Ray Ferrero Blvd., Davie; www.southfloridajazz.org; $40, $10 students.
EN CONCIERTO
FONSECA
Colombian singer-songwriter heavily influenced by Carlos Vives brings his blend of vallenato and cumbia to the stage in support of his fifth studio album, "Conexion."
Details: 8 p.m. Saturday at the Fillmore Miami Beach at Jackie Gleason Theater, 1700 Washington Ave., Miami Beach; LiveNation.com; $68.75-$83.75.
IN THE HOUSE
KASKADE
Superstar DJ/producer from Chicago – real name Ryan Raddon – spins breezy progressive house and trance anthems from his latest album, "Atmosphere," plus older faves including "I Remember," "Room For Happiness" and "Lessons In Love."
Details: 11 p.m. Saturday at LIV Nightclub, 4441 Collins Ave., Miami Beach; www.flavorus.com; $90.
Sunday, May 15
ARTSCAPE CONCERT SERIES
CREOLE JAZZ PROJECT
In celebration of Haitian Flag Day, this family-friendly show features Haitian-born bandleader and guitarist Jean Chardavoine, plus Dr. Ed Calle's Student Jazz Ensemble and a guest appearance by the Haitian Arts & Culture for Children Dance Troupe. A farmer's market will also be on-site, run by The Market Company.
Details: 2-5 p.m. Sunday at Collins Park, 2100 Collins Ave., Miami Beach; www.globalartsproject.org; free.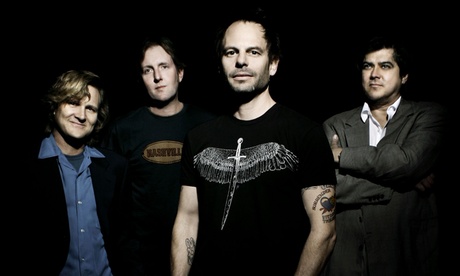 HEY JEALOUSY
GIN BLOSSOMS
Arizona jangle-pop band performs its melodic, sing-along hits "Found Out About You," "Follow You Down," "Til I Hear It From You" and "Hey Jealousy." L.A. alt-rock band Tonic ("If You Could Only See") and Santa Barbara band dishwalla ("Counting Blue Cars") open.
Details: 6 p.m. Sunday at Pompano Beach Amphitheater, 1806 NE 6th St., Pompano Beach; Ticketmaster; $26.50-$68.
Next Week
ROCK ON
THE STRUTS
British nu-glam band – whose over-the-top retro-fetishist classic rock sound bridges the past and future – performs tracks from i

ts debut album "Everybody Wants," including the single "Could Have Been Me," which is scoring heavy airplay on South Florida's alt-rock station 104.3 The Shark.
Details: 7:30 p.m. Tuesday at the Culture Room, 3045 N. Federal Hwy., Fort Lauderdale; www.cultureroom.net; $16.50.
SCANDAL-LESS TOUR
MARLON WAYANS
The baby brother of the Wayans entertainment conglomerate (he's the youngest of 10 children, among them Shawn, Damon, Keenan Ivory and Kim) takes a break from his successful film career ("Scary Movie," "White Chicks," "A Haunted House") for his first headlining comedy tour.
Details: 8:30 p.m. Thursday at the Fillmore Miami Beach at Jackie Gleason Theater, 1700 Washington Ave., Miami Beach; LiveNation.com; $39.50-$49.50.
free for all
CHOPIN FOR ALL
3 P.M. SATURDAY AND SUNDAY: Season finale features a piano recital by Eric Lu, the First Prize winner of the 2015 National Chopin Piano Competition, performing works by Mozart, Schubert and Chopin; 3 p.m. Saturday at Broward County Main Library, 100 S. Andrews Ave, Fort Lauderdale; and 3 p.m. Sunday at Granada Presbyterian Church, 950 University Dr., Coral Gables; www.chopin.org.