11 events not to miss in Miami in May 2016
Urban Beach Week revelers party and have a good time at pool inside the Clevelander Hotel in Miami Beach. PHOTO: Carl Juste
MIAMI Museum Month
May 1-31

Where: Various museums around Miami

www.MIAMIMuseumMonth.com
During May, it's the ultimate BOGO deal for culturist with "Buy One, Get One Free" admission at participating museums. Also, buy a membership to any one of the participating museums and receive a free pass to any of the other museums.
Brew at the Zoo
May 7

Where: Zoo Miami, 12400 SW 152nd St., Miami

www.zoomiami.org
Raise your mug amongst the animals at Zoo Miami during the annual Brew fest with more hundreds of international, domestic and craft beers, music by hip hop pioneers Arrested Development and the fun Riva photo booth to capture the memories.
'The Hammer Trinity'
May 7 & 8

Where: Adrienne Arsht Center for the Performing Arts, 1300 Biscayne Blvd., Miami

www.arshtcenter.org
The last weekend of the marathon theatrical event that features three full-length plays "The Iron Stag King," "The Crownless King" and "The Excelsior King" the story of a young man recovering a coveted hammer, fighting pirates and relinquishing the Hammer's power.
'Don Pasquale'
May 7-14

Where: Adrienne Arsht Center for the Performing Arts, 1300 Biscayne Blvd., Miami

www.arshtcenter.org
Florida Grand Opera presents Gaetano Donizetti's Italian comic opera about an old recluse who loves cats and must find a wife before his nephew squanders his wealth.
Aqua Girl
May 11-15

Where: Various venues throughout Miami Beach

www.AquaGirl.org
Billed as the largest charity event for women who love women, proceeds benefit the Aqua Foundation for Women funding scholarships and grants for the LGBT community. That means the pool parties, karaoke, dance parties and speed dating event are all for a good cause.
Redland International Orchid Festival
May 13-15

Where: Fruit & Spice Park, 24801 SW 187th Ave., Homestead

www.FruitandSpicePark.org
The three-day event features more than 50 orchid vendors and educational booths, along with expert lectures, international foods and raffles. The judged event includes a wide variety of orchids, plants and supplies for sale.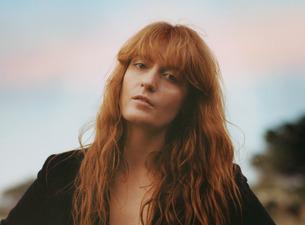 Florence + The Machine
May 13

Where: American Airlines Arena, 601 Biscayne Blvd., Miami

www.aaarena.com
The English indie rock band, led by the powerful redhead vocalist Florence Welch, brings their How Beautiful Tour in support of their latest album to Miami. Expect to hear their well-known hits "Dog Days Are Over," "Ship to Wreck" and "What Kind of Man."
Taste of Haiti
May 14
Where: Museum of Contemporary Art, 770 NE 125 St., North Miami

www.tasteofhaitiusa.com
Spend the day feasting on traditional Haitian dishes including Griot and Soupe de Giromond, prepared by chefs from several local restaurants plus, a Chef's Cook-off, live music and cooking demonstrations.
Cuba Nostalgia
May 20-22

Where: Miami-Dade County Fair-Expo Center, 10901 SW 24th St., Miami

www.CubaNostalgia.org
Harken back to the glory days of Cuba and celebrate the island's history and tradition. Peruse booths with vintage items including sheet music and compositions, antique books, historical documents, photographs, paintings and recordings. Shop for guayaberas and hand-rolled cigars and enjoy mojitos and traditional Cuban food.
Mainly Mozart Festival
May 21- July 1

Where: Various Venues throughout Miami

www.MainlyMozart.com
Classical music lovers get their fix during The Miami Chamber Music Society's two-month classical music series. The society highlights some of Mozart's most important works and other composers performed by world-renowned cellist Thomas Mesa, soprano Chen Reiss and pianist Sergei Babayan.
Urban Beach Week
May 26-30

Where: Various locations throughout South Beach

www.blackbeachweek.com
Urban Beach Week is an annual hip hop festival with parties and concerts at various venues around Miami Beach, plus other entertainment and activities at hotels and clubs around SoBe, culminating with The Best of the Best Concert, a showcase of some of the hottest acts in hip-hop, reggae and R&B.