7 Things To Know As You Jump on the Florida Panthers Bandwagon
Haven't watched a Florida Panthers hockey game all season, and suddenly you realize they're in the NHL playoffs? No worries. Here are seven things you need to know so you don't look lost if you attend a watch party with some friends and jump on the bandwagon. (The Panthers open the playoffs against the New York Islanders.)
1. Learn some of the rules.
If you're too busy to do that, at least figure out some of the terms. Icing the puck, penalty kill, pull the goalie, dangle, snipe, power play and sin bin (OK, penalty box) should do the trick.
2. If you're going to root on the Panthers, it's best to know some of the players.
Everyone knows Jaromir Jagr (above) and Roberto Luongo, but casually drop "Aleksander Barkov goes by 'Sasha'," and prepare for your friends to be impressed. Other good names to know: Vincent Trocheck, Jonathan Huberdeau (if he scores, feel free to yell 'Hubey Doobie Doo!'), Aaron Ekblad, Erik Gudbranson and backup goalie Al Montoya are good name-droppers.
3. Bone up on the history.
The best season in franchise history — to date — came in 1996 when the Panthers went from expansion team to the Stanley Cup Finals in just three years. Fans celebrated goals by throwing rubber rats on the ice and the Panthers were the most popular team in town. Seriously, they were.
4. Watch the games, somewhere!
If you can't make it to the Panthers' arena in Sunrise — it's not as far away as you may think and is across the street from Sawgrass Mills for pregame shopping needs — head to your favorite bar and grille to enjoy the game on television. Steve 'Goldie' Goldstein and Islanders' Stanley Cup captain and Hall of Famer Denis Potvin have the call through the first round.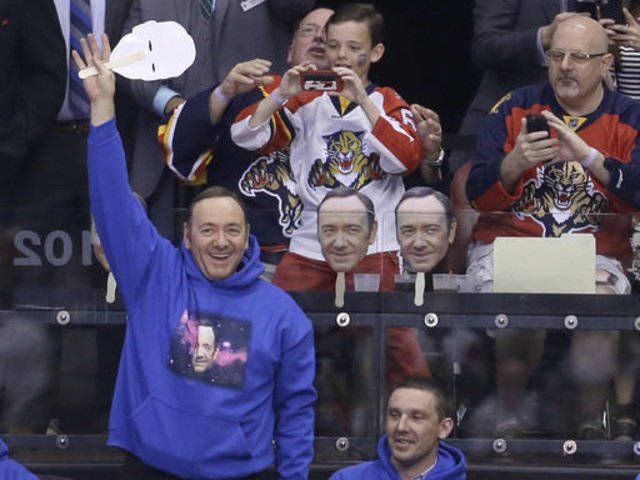 5. Purchase some gear.
One of the best ways to show how committed you are to this Florida Panthers playoff run is by purchasing a jersey — which you can call a 'sweater' to further impress your pals. Take your pick from a No. 68 Jagr, No. 1 Luongo, No. 5 Ekblad (last season's rookie of the year, man!), No. 16 Barkov or go old-school and get a No. 34 Vanbiesbrouck. If you don't have that kind of cash, grab your own 'Spacey In Space' hooded sweatshirt and dress like one lucky Panther does in the victorious locker room. The sweatshirts cost $40 and benefit charity. Even actor Kevin Spacey (above), who considers himself the Panthers "good luck charm", has one.
6. Car flags.
Now it's time to decorate your ride and nothing says "my team is in the playoffs" like car flags flapping relentlessly in the breeze as you cruise down I-95. Have a two-door? Two flags! Four door car? Get four of them. The more flags, the better.
7. Rubber rats.
Head over to your local dollar store or party supply shop and buy as many rubber rats as you can. If the Panthers playoff run goes deep, history tells us these cheap toy rodents will become a hot commodity and hard to find in South Florida. Of course, the Publix bakery could begin making 'rat cakes' and 'rat cup cakes' as they did in 1996. But no one wants you to throw perfectly fine baked goods onto the ice. That's just going too far.