5 reasons you need to plan a trip to the Cayman Islands right now
Rum Point at in the Cayman Islands.
My earliest memory of the Cayman Islands had to with a reference from "The Simpsons" where shady businessman/clown Krusty had a secret account at the Cayman Islands Offshore Holding Corporation. That pop culture reference followed others — from movies like "The Firm," about a suspicious law firm that laundered mafia money in Grand Cayman to give me a an exciting (if inaccurate) picture of a Caribbean destination known for pristine beaches and artful dodgers. But this summer my family and I set out to experience the real Cayman Islands and what we found instead was a reputable slice of the Caribbean where we could swim with stingrays, dine at farm-to-table restaurants and snorkel in gin-colored waters on some of the most pristine beaches in the world.
The beach on Grand Cayman.
And now is an ideal time to plan a visit as December through April is the most popular time to visit the Cayman Islands. Temperatures during the "winter season" average a balmy 75 degrees with relatively low humidity. Plus you've got loads of festivals and events to align with your visit including the epicurean's delight Cayman Cookout (January 16-20, 2019 at The Ritz-Carlton) to the Taste of Cayman happening January 26 at Camana Bay.
1. Stay on Seven Mile Beach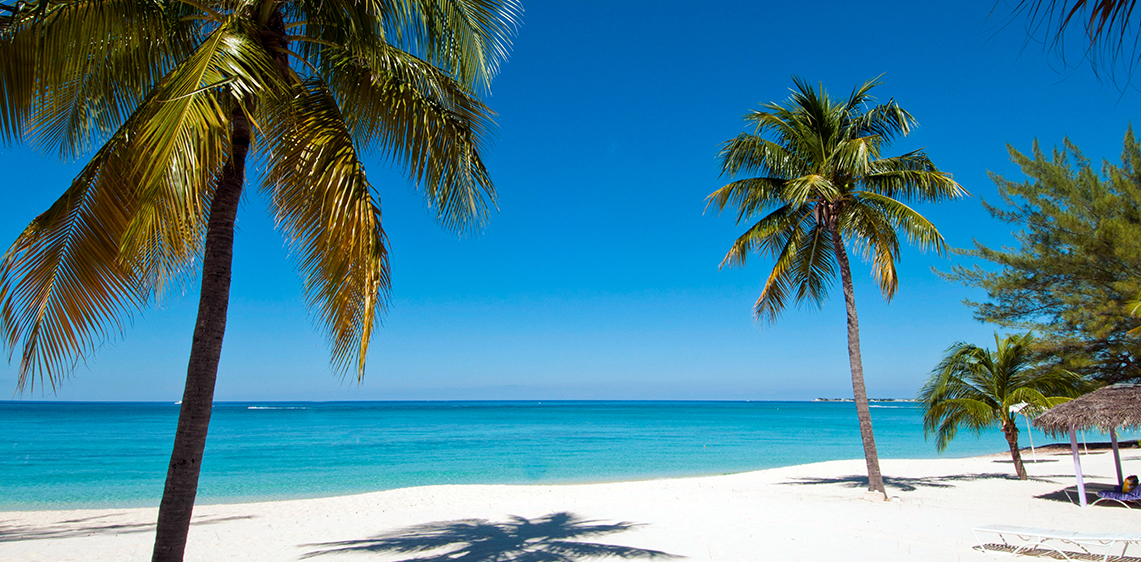 Seven Mile Beach in Grand Cayman.
Every inch of this crescent-shaped shore blanketed with soft coral-colored sand is heaven – and home to some of the island's best resorts. We set up camp at the Grand Cayman Marriott Beach Resort where a Hamptons-esque color palette of whitewashed walls and nautical decor felt casual and sophisticated. Every morning after a buffet breakfast that included healthy options like fresh berry smoothies and chia seed pudding (in addition to pastries and a fresh omelette station) we'd pad off to the hotel's beachfront where complimentary snorkel gear and free go-pro cameras for guests guaranteed a morning of underwater adventure and nature photography (plus plenty of goofy selfies).
The Marriott Grand Cayman.
The "Beach House experience" at the Grand Cayman Marriott Beach Resort included a host of fun perks like free use of bicycles for exploring the island, gratis yoga classes and paddleboard rentals and strong wifi throughout the resort.
The "Beach House experience" at Marriott Grand Cayman.
Throughout our stay we were impressed with the full calendar of events happening at the hotel – things like evening cocktail parties to seafood brunches – that were wildly popular with the locals but also open to hotel guests. It was like staying at a cool members-only club along the lines of a Soho House or other boutique brand. All those fringe benefits, in addition to the usual amenities of a resort like great service, a lovely pool and top-notch dining made this a great base from which to explore the islands.
2. Swim with Stingrays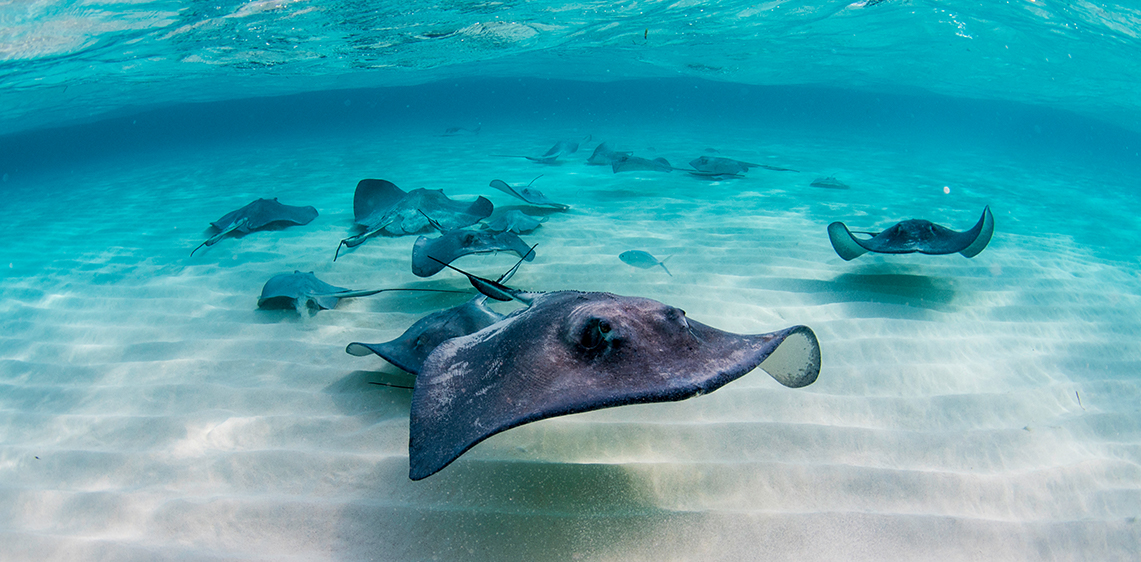 Stingray City, Grand Cayman.
Charter boats leave daily for "Stingray City," which is actually a shallow sandbar where you can interact with and feed the wild Atlantic stingrays that live freely in those waters (there are no penned enclosures). It was disconcerting at first, but we followed our boat's guides for petting and swimming among the winged sea creatures, eventually getting close enough for photos and reveling in this wildlife encounter.
3. Live like a local at Camana Bay


Camana Bay in Grand Cayman.
This dining and shopping mecca functions like a town center for Grand Cayman. The outdoor mall is a mix of high-end retailers (Miamians will recognize local favorite Books and Books), excellent restaurants and family-friendly entertainment. The development hosts over 600 events a year including a weekly farmer's market, so make sure to check their calendar – while we were in town we took in a Moonlight Movie – an outdoor screening held at the promenade.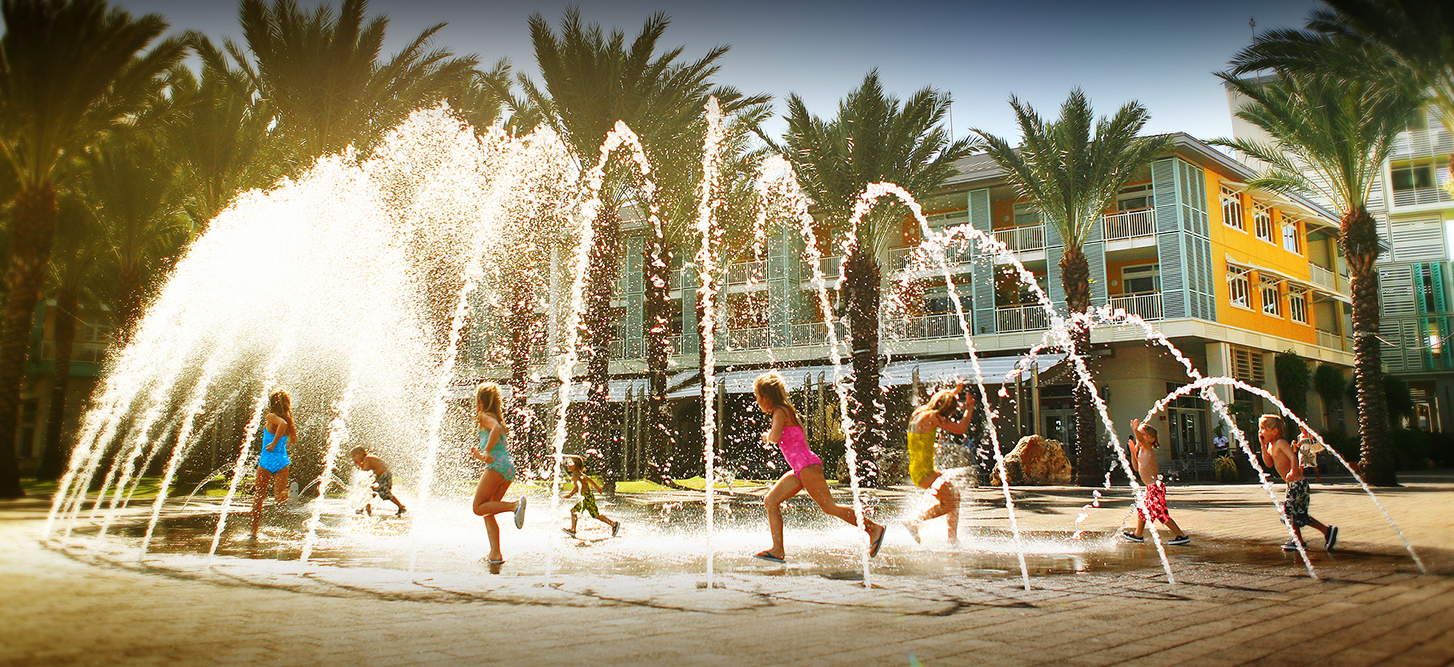 A splash zone at Camana Bay.
The kids also loved the Imagination Playground, an interactive splash zone and the 75-foot observation tower, where we climbed steps to the top to admire beautiful sunken mosaics and amazing views.
4. Experience a Field-to-Fork Restaurant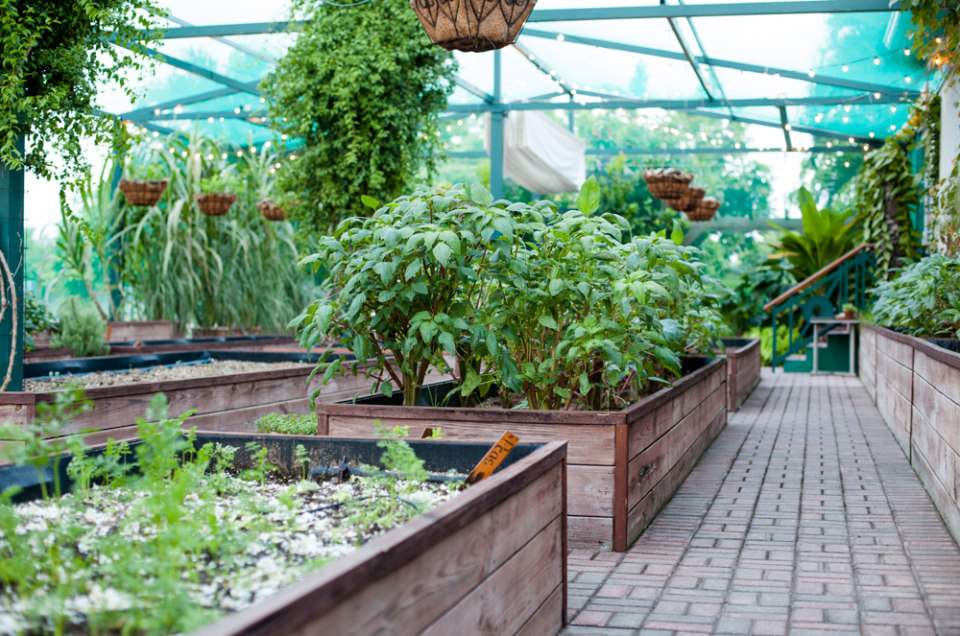 The organic garden at The Brasserie, Grand Cayman.
The farm-to-table movement is strong in Grand Cayman but no where is it more apparent than at The Brasserie, a restaurant complex with its own prolific organic garden and it's own "field-to-fork" philosophy. A collaboration of Chef Dean Max and owners King and Lisa Flowers, the restaurant is known for pioneering the island's kitchen garden trend and emphasizing sustainbility and seasonality. Before our dinner we were privy to a tour of the restaurant's screen-enclosed garden where the variety of produce grown was astounding. In row after row of planters were: kale, pak choy, callaloo, beets, cauliflower, carrots, heirloom beans, eggplant, tomatoes, heirloom, dragon fruit, bananas, sugar cane and various types of leafy greens. They also cultivate herbs and spices like basil, oregano, garlic chives, onions, mint, rosemary, thyme tarragon and peppers. The restaurant also has private fishing boats that bring in fresh catch like grouper and snapper.
Dishes at The Brasserie, Grand Cayman.
5. Spend the day at Rum Pointe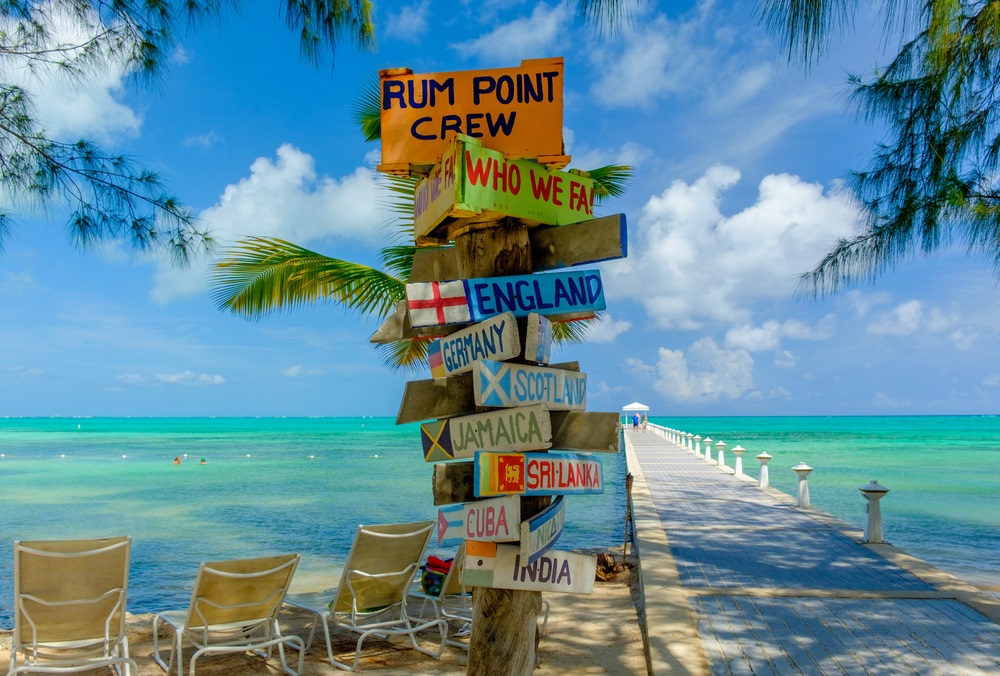 Rum Point, Grand Cayman.
At this colorful and laid back beachfront oasis located about an hour from Seven Mile Beach you'll alternately spend the day snorkeling, lazing on a beach hammock, snorkeling again, lunching on jerk chicken wraps, following it up with a frozen daiquiri and then laze on a beach hammock some more. The white-sand beach is outfitted with picnic tables, a restaurant churning out frozen drinks and delicious food and plenty of island vibes to go around. Its chill atmosphere makes it a hit with families and honeymooning couples and day-caytioners from docked cruise ships.