12 Best Events in Miami this Weekend - April 1-3
Friday, April 1
HE'S BA-A-ACK

ARSENIO HALL

The man who changed the face of late-night TV in 1989 with his groundbreaking series "The Arsenio Hall Show" – and who won Donald Trump's "Celebrity Apprentice" in 2012 – does stand-up, providing a few more Things That Make You Go 'Hmm.'

Details: 7:30 and 10 p.m. Friday, and 7 and 9:30 p.m. Saturday, at the Palm Beach Improv, 550 S. Rosemary Ave., Ste. 250, West Palm Beach; 561-833-1812 or www.palmbeachimprov.com; $27.
THE PAPER GODS TOUR

DURAN DURAN

British new wave band that struck gold in the '80s with hits including "Hungry Like the Wolf," "Rio," "Save a Prayer," "Is There Something I Should Know?" "The Reflex," "A View to a Kill" and "Notorious" takes the stage in support of its 14th studio album, "Paper Gods," with Chic featuring Nile Rodgers opening.

Details: 8 p.m. Friday at Bayfront Park Amphitheatre, 301 Biscayne Blvd., Miami; LiveNation.com; $24.75-$232.
FREE CONCERT SERIES

NOCHES TROPICALES

Bring blankets, lawn chairs and the whole family to enjoy Miami's own Grammy-nominated band Conjunto Progreso, which will fill the air with nostalgic Cuban rhythms infused with modern Latin jazz grooves. The group will play an amazing repertoire that includes songs inspired by Latin music legends such as Ignacio Piñeiro, Miguelito Matamoros, Compay Segundo, Faustino Orasma and many others.

Details: 8 p.m. Friday at Tropical Park, 7900 SW 40th St., Miami; 305-271-0812; free.
BOMB THE BASS

SKRILLEX

Former lead singer (as Sonny Moore) for the post-hardcore band From First to Last who went on to find bigger fame as perennial Grammy-winning dubstep god Skrillex will tear up the dance floor with his vicious, bottom-heavy beats.

Details: 11 p.m. Friday at Story Miami, 136 Collins Ave., Miami Beach; www.flavorus.com; $45-$75.
Saturday, April 2
AN OLD SOUL

CECILE MCLORIN SALVANT

Miami-born jazz chanteuse whose smoky yet crystal clear vocals recall classic singers of the '20s and '30s takes the stage in support of her Grammy-winning third studio album, "For One to Love." Raved the New York Times: "If anyone can extend the lineage of the Big Three – Billie Holiday, Sarah Vaughan and Ella Fitzgerald – it is her."

Details: 8 p.m. Saturday at the South Miami-Dade Cultural Arts Center, 10950 SW 211th St., Miami; 786-573-5300 or www.smdcac.org; $30-$55.
FREE FOR ALL

SANKOFA JAZZ FEST

Groove to the sounds of pianist Bobby Floyd, singer Courtney Mickens, sax-man Melton Mustafa and Latin jazz singer Cachita Lopez.

Details: 2-6 p.m. at African Heritage Cultural Arts Center, 6161 NW 22nd Ave., Miami; 305-638-6771.



OPEN-AIR GALLERY

LAS OLAS ART FAIR PART 2

Beloved outdoor festival hits town for the second leg of its 28th year, bringing with it original art, eclectic displays and a wide array of styles and media from 250 artists from around the country.

Details: 10 a.m.-5 p.m. Saturday and Sunday on Las Olas Boulevard in Fort Lauderdale, between A1A and South Federal Highway; www.artfestival.com; free.
A TASTE OF THE BAYOU

CRAWDEBAUCHERY

Weekend food and music festival celebrates the culture and cuisine of New Orleans, the birthplace of jazz, with 14 bands from Louisiana (including Galactic and Chubby Carrier & the Bayou Swamp Band), plus authentic Cajun bites such as beignets, jambalaya and po-boys.

Details: 11:30 a.m.-10 p.m. Saturday and Sunday at Pompano Beach Amphitheater, 1806 NE 6th St., Pompano Beach; www.crawdebauchery.com; $25, $65 VIP; two-day pass $40, $100 VIP; kids under 10 free.
BLAST FROM THE PAST

ROCKFEST '80S

Tease up your hair, get totally radical and bang your head to favorite acts including Warrant, Night Ranger, The Romantics, Paul Rodgers, Ace Frehley, Sebastian Bach, Bret Michaels and more.

Details: 1 p.m. Saturday and Sunday at Markham Park, 16001 W. State Road 84, Sunrise; Ticketmaster; $99.
KEYSTOCK MUSIC FESTIVAL 2016

HUEY LEWIS & THE NEWS

Road trip! Head south for a great concert featuring the Grammy-winning band that gave us the hits "I Want a New Drug," "Hip to Be Square," "Do You Believe in Love," "The Heart of Rock & Roll," "The Power of Love," "Heart and Soul," "Stuck With You" and "If This Is It." Opening is local fave "trop-rock" group Howard Livingston and the Mile Marker 24 Band, best known for Keys-themed songs such as "Blame It on the Margaritas" and "Livin' on Key West Time."

Details: 6 p.m. Saturday at Truman Annex Waterfront, 201 Front St., #103, Key West; www.keystix.com; $40, $100 VIP.
REGGAE SHOWCASE

MORGAN HERITAGE

Jam along with this Grammy-winning band formed by the five children of legendary reggae artist Denroy Morgan. Also on the bill: British reggae fusion singer Maxi Priest ("Wild World," "Close to You") and Junior Marvin's Wailers, who will relive the music of Bob Marley and beyond.

Details: 7:30 p.m. Saturday at the Broward Center for the Performing Arts, Au-Rene Theater, 201 SW Fifth Ave., Fort Lauderdale; 954-462-0222 or www.browardcenter.org; $35-$125.
Sunday, April 3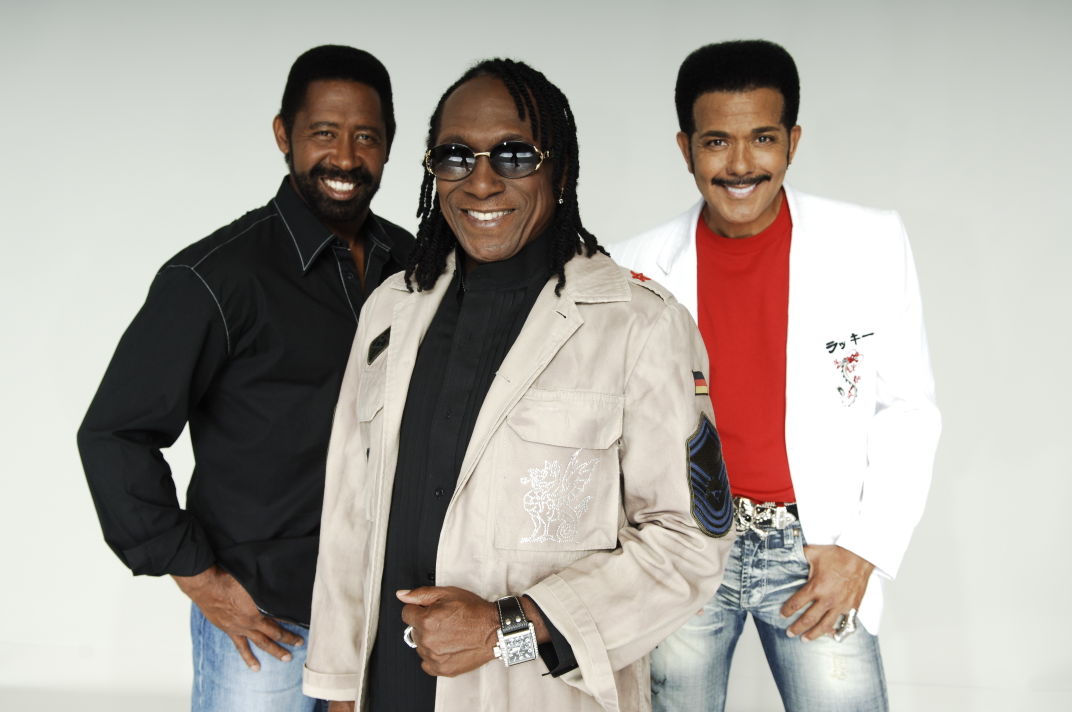 FUNK LEGENDS

THE COMMODORES

Pioneering funk band performs its biggest hits, including the ballads "Easy," "Three Times a Lady," "Still," "Sail On" and "Nightshift," plus dance classics such as "Brick House," "Lady (You Bring Me Up)" and "Too Hot ta Trot."

Details: 7 p.m. Sunday at the Seminole Coconut Creek Casino, 5555 NW 40th St.; Ticketmaster; $45-$65.
Next Week
FUNK-METAL PIONEERS

LIVING COLOUR

Grammy-winning New York City band led by Vernon Reid that shook up the music world in the late '80s with its unique mix of funk, jazz, rock and heavy metal performs hits including "Cult of Personality," plus tracks from "Shade," its sixth studio album and first in seven years.

Details: 8 p.m. Tuesday at Revolution Live, 200 W. Broward Blvd., Fort Lauderdale; www.jointherevolution.net; $23.50 advance, $25 day of show.
BROADWAY CONCERT SERIES

JENNIFER HOLLIDAY

Tony- and Grammy Award-winning powerhouse vocalist who wowed audiences more than 30 years ago with the song "And I Am Telling You I'm Not Going" in the music

al "Dreamgirls" and has performed for four presidents takes the stage in support of her new album of classic jazz standards, "Love Me By Name."

Details: 8 p.m. Wednesday at the Aventura Arts & Cultural Center, 3385 NE 188th St., Aventura; 305-466-8002 or www.aventuracenter.org; $40-$45.
BROADWAY BOMBSHELL

BERNADETTE PETERS

Tony- and Grammy-winning actress and singer hailed by New York Times critic Charles Isherwood as "one of the most accomplished musical-theater performers of her generation" performs favorites from the Great White Way as well as from her Grammy-winning albums, accompanied by a full orchestra.

Details: 8 p.m. Thursday at the Kravis Center for the Performing Arts, Dreyfoos Hall, 701 Okeechobee Blvd., West Palm Beach; 561-832-7469 or www.kravis.org; $25-$125.