Summer is the season for those people who, having spent the last 10 months on a paleo-induced CrossFit high, can gleefully flaunt their rock-hard flanks and museum-quality torsos in skimpy attire.
Spoiler alert: We are not those people.
Sign Up and Save
Get six months of free digital access to the Miami Herald
But thankfully summer is also the season of guilty pleasures: trashy beach reads, drugstore flipflops and violently flavored cocktails in colors not known to nature. And what better way to revel in some low-grade, sun-drenched hedonism than a well-timed hit of sweet, sweet sugar.
So whether you're looking to offset a diet generously festooned with ladles of quinoa, or just seriously DGAF, here are some sweet spots to crush some calories this summer, in no particular order.
Doughnuts are the new cupcake, apparently. The latest entrée into this happiest of food trends, Honeybee Doughnuts recently opened in a little strip mall near Sunset Place. They offer a roster of goodies that includes guava cheese, raspberry coulis and birthday cake flavors – as well as a very appropriate glazed doughnut filled with a ribbon of honey and adorned with a sugary honeybee. (We are obligated to point out they also have a gluten-free chocolate beehive that clocks in at 110 calories, which is super yummy, but not in the spirit of this listicle.)
7388 Red Road, South Miami; 786-773-2770
We generally prefer to blow our sugar load at a mom-and-pop establishment, but we'll make an exception for Dylan Lauren's South Beach shop (pictured at top), which exudes a deliciously young, vibrant and sugary vibe. If Willy Wonka knocked up Selena Gomez, their child would be this store. It was also voted one of those most beautiful candy shops in the world by Architectural Digest. And even more importantly, they sell cake batter flavored popcorn as well as 3D Printed Candy you can design yourself down to the flavor! Dylan Lauren may be Ralph Lauren's daughter, but she is also probably (definitely) the devil.
801 Lincoln Road, Miami Beach; 305-531-1988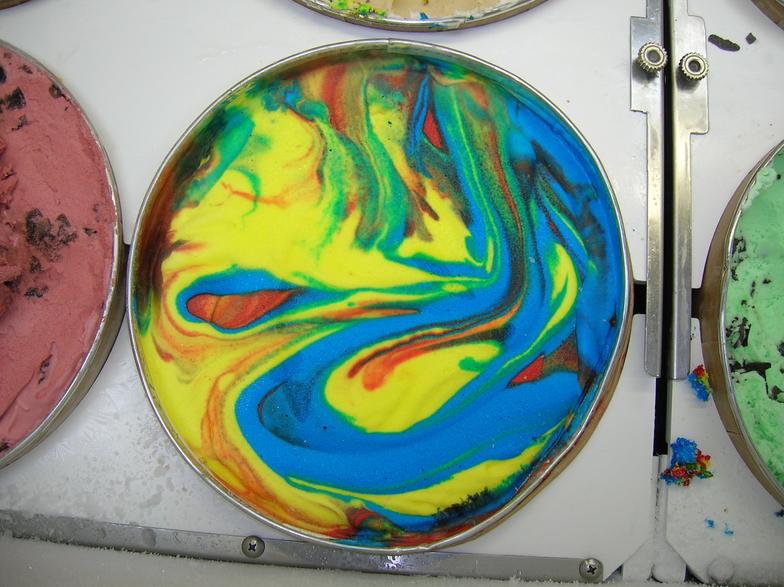 It may feel like a throwback to the Eisenhower era, but Wall's has only been around since 2002. Nonetheless, this standalone ice cream shop just off South Dixie Highway channels some serious, old-school Americana: malted milkshakes, banana splits, egg creams and vintage cartoons playing on an endless loop. There's even an outdoor mural that is its own homage to a bygone era, depicting landmarks such as the Orange Bowl (gone) and the original Parrot Jungle (relocated and renamed). There are classic flavors for the olds, like butter pecan and black cherry. And some new-fangled flavors for the kiddos, like a technicolor concoction called Super Hero which looks suspiciously like Play-doh, but which my kids will eat by the bucket.
Well played Wall's. Well played.
8075 SW 67th Ave., South Miami, 305-740-9830
Like we said: Doughnuts are having a moment. And that moment, at least in Miami, has been brought to you by The Salty Donut, an artisanal shop in Wynwood so beloved by hipster foodies (and foodie hipsters) that their recent event celebrating National Doughnut Day sold out. That's right: they sold tickets for you to eat their doughnuts. THAT IS HOW FRICKING COOL THEY ARE. Their well-loved offerings include a brown-butter-Maldon-sea-salt cake doughnut that's so good I imagine it's what Thor eats for breakfast in Valhalla.
29 NW 24th St., Wynwood; 305-925-8126
The second Sugar Factory outpost to open in South Beach, the recently inaugurated Lincoln Road location does offer actual "food" food like burgers and pancakes, but strives mightily to live up to its name with a menu that includes a chocolate cookie jar shake, made with Oreo cookie crumbles, chocolate chips, caramel, vanilla ice cream and pure melted chocolate, topped with whipped cream and Oreo cookies. But really it's the grown-up libations that get the glory here, like their signature alcohol-infused smoking candy goblets. Very dramatic! Also it has booze! So win win.
647 Lincoln Road, South Beach; 305-604-0323
Despite the aforementioned doughnut craze, cupcakes are still pretty boss. Especially when those cupcakes come from Buttercream Cupcakes off of Sunset Drive. Owned and operated by a totes adorbs husband-and-wife team, Buttercream offers simple but lovely combinations like chocolate coconut and vanilla peanut butter on a set weekly schedule – and with some surprise offerings thrown in the mix (like a not-too-sweet vanilla guava cupcake). It's also literally next door to the landmark soft-serve palace Whip 'N Dips. No judgement.
1411 Sunset Drive, Coral Gables; 305-669-8181
Proust famously employed the madeleine to conjure the involuntary memories of youth. But for generations of Cuban-Americans, few things capture the magic of a hyphenated Miami childhood like a pastelito from La Rosa Bakery. Founded in 1968 by five brothers who emigrated from Cuba, La Rosa has remained blessedly unchanged for decades. These are unapologetically old-school pastelitos, dense and crumbly torticas de moron and flan — that's right: "flan", singular, just the original basic custard flavor and nothing more.
With apologies to small-batch cupcakes and bacon-bedecked doughnuts, few things match the simple joy of an overly air-conditioned Miami Cuban bakery on a hot summer day.
4259 W. Flagler St., Coral Gables; 305-443-2113
Disclaimer: There is no way we could make a comprehensive list of every guilty-pleasure establishment in the Magic City and its richly diverse environs. So let us know your favorite in the comments. I promise to check them all out, in person, as a matter of duty. Because journalism.