Could this be the Best Post-Party Brunch in Miami: Nikki Beach
Photo/Alex Beck
Co-written by Alex Beck, guest writer
The Vibe: When it comes to brunching in Miami, Nikki Beach is a rite of passage. Always swanky and always sexy, it really doesn't get more South Beach than this – from the plush oversized daybeds and white linen canopies, to the live DJ and sultry crowd that call themselves regulars at this legendary beach club. If you're looking to sit back, unwind, and keep the party going past Saturday night (albeit in a far more laid back atmosphere), Nikki Beach is the place to go. Those looking for a more intimate retreat, however, can head to Cafe Nikki Beach, a hidden nook on the property decorated with comfortable chairs and bookshelves that feels more like a quaint, local coffee shop than a beach club.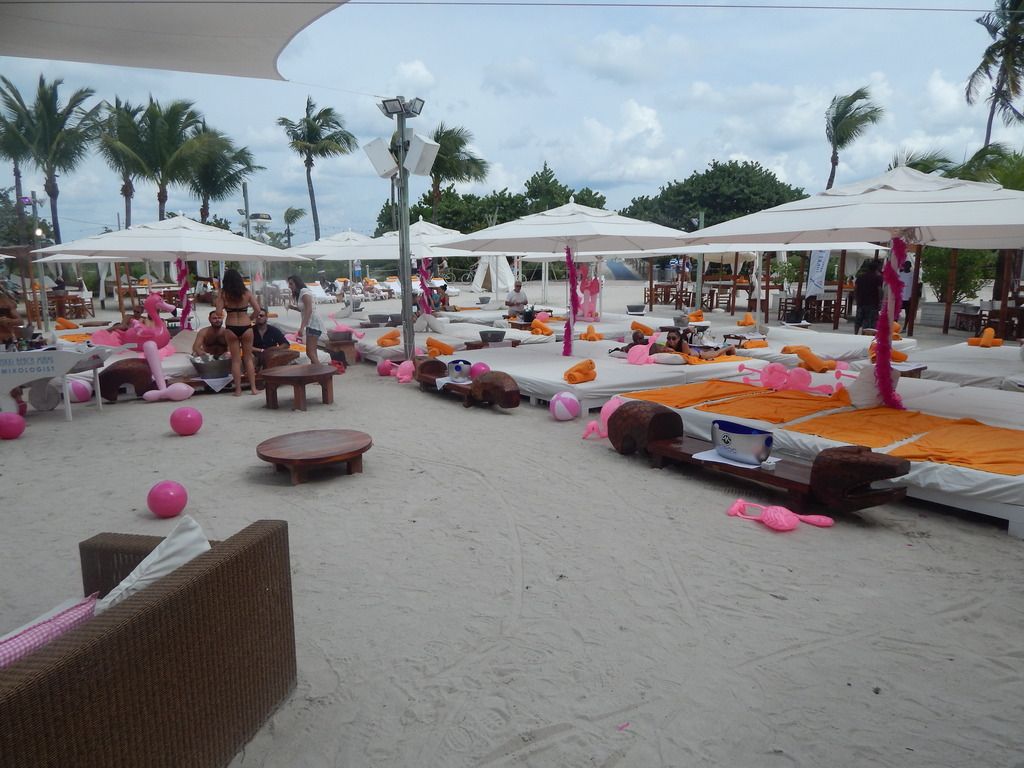 The Food: For $49.95 patrons may enjoy as much food as they like from a plethora of stations positioned all over the property. Here are our favorites:
The Rotisserie Station (below) features hormone free chicken imported from France, expertly roasted prime rib with a mustard seed crust, coriander crusted pork loin, house made leg of ham, and mini whole roasted pig. The station is complete with an array of sauces and gravies for patrons to help themselves to. Charcuterie preparations can be found at any upscale brunch venue, but Nikki Beach steps it up a notch with house made Italian porchetta. Pork butt, loin and shoulder are cured and roasted in house.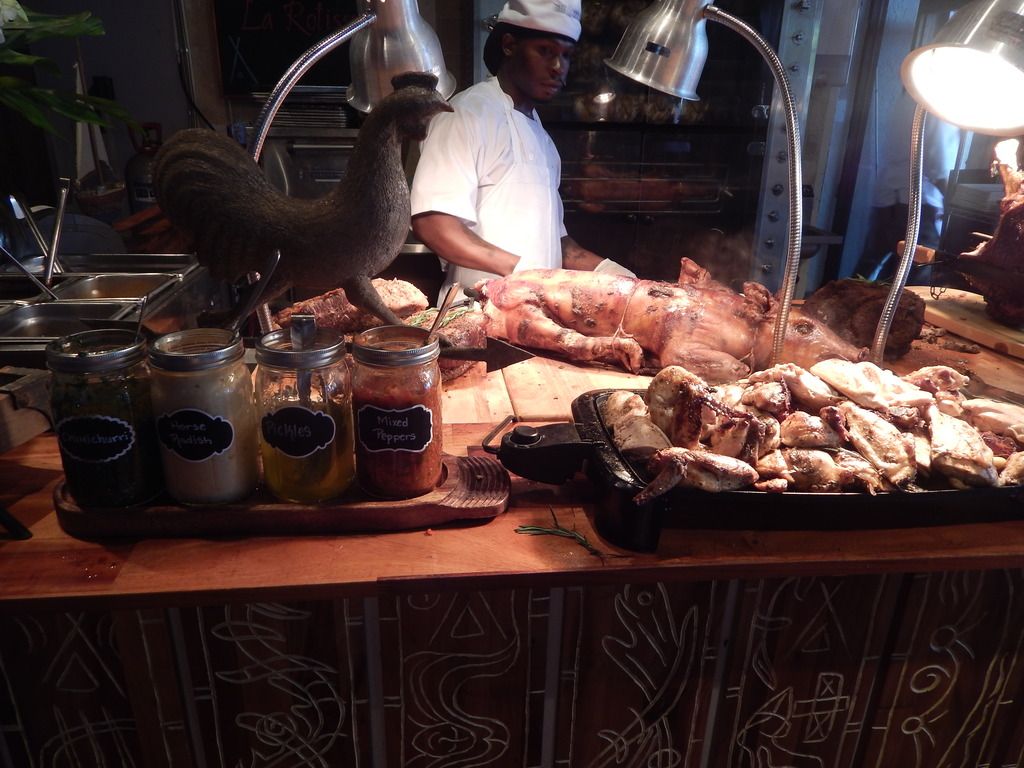 Guests can also enjoy fresh sushi prepared to their specifications or in house, cold-smoked salmon at the sushi station (below).
A salad and fruit station (below) features tricolor quinoa salad, roasted beet salad, chickpea pesto salad, caprese salad, potato salad, deviled eggs, garlic asparagus, and a mountain of fresh fruit, and serves as go-to spot for those looking to cleanse away last night's shenanigans with some lighter fare.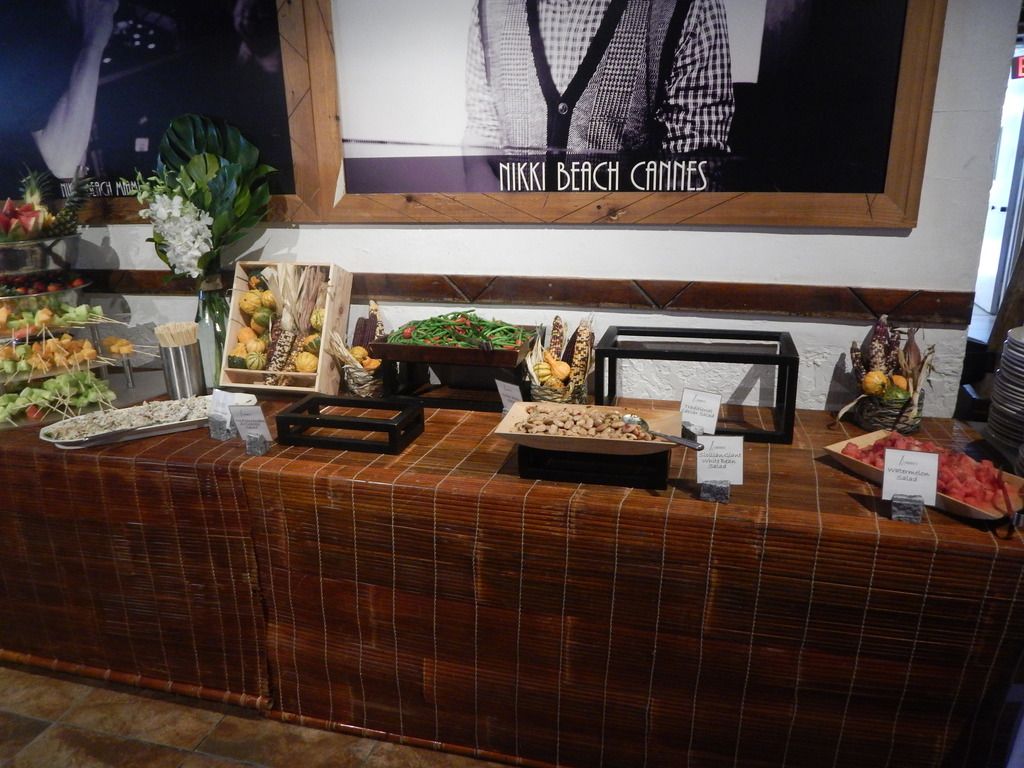 A pasta station (below) allows guests to pick toppings and sauces and watch as their unique dish is created right in front of them. All the pasta at this station is made fresh on the premises.
Our favorite dish was the paella, cooked int he traditional style with fresh mussels, peas, tomatoes, shrimp and saffron rice (below).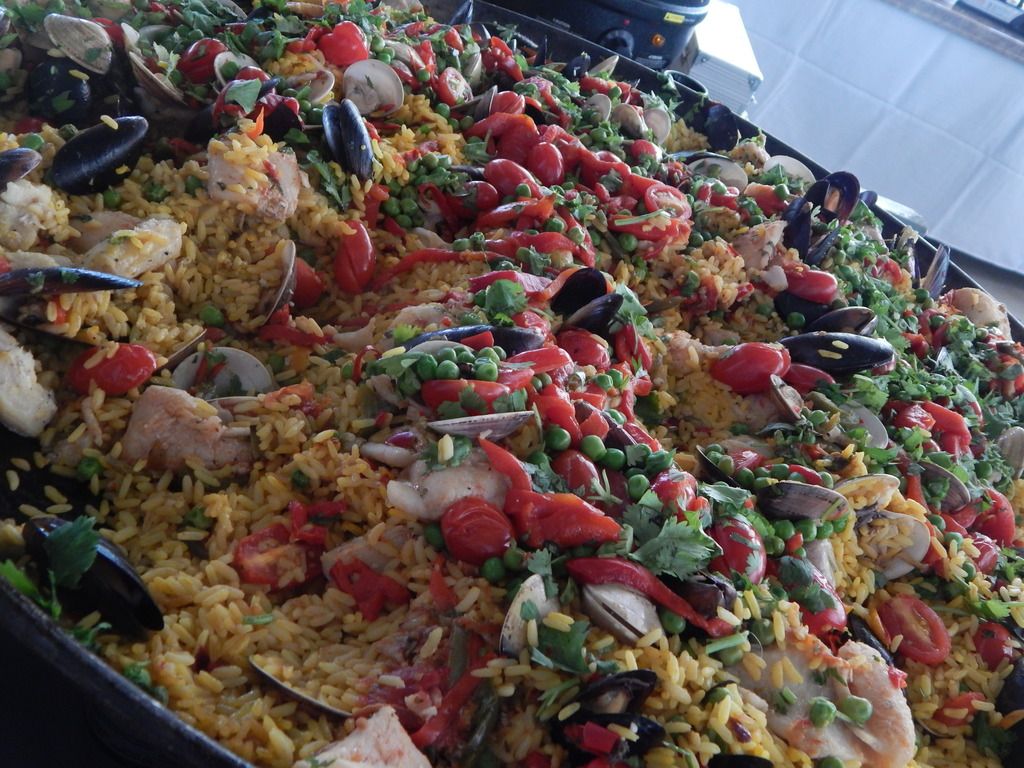 Finally, those looking to postpone their Sunday morning hangover with a little more booze can head to the Bloody Mary station (below). Bloody Marys are an additional $7 each, but they're made entirely to your specifications.
The Crowd: Overall, Nikki Beach's Sunday Brunch has something for everyone, from groups of girlfriends enjoying an intimate day-date at the property's cafe or lounging on luxurious daybeds, to out-of-state visitors looking to cure their weekend hangovers with mountains of food and Bloody Marys. In so many ways, Nikki Beach embodies the quintessential South Beach Brunch experience. Perhaps the highlight of the crowd, however, is the staff. Their attention to detail and commitment to quality is a rare thing to find, as many South Beach places go. But if you don't go for the food, the atmosphere or the service, you should go just because of what it represents: a true Miami Beach staple that everyone should visit at least once while they're in the Magic City.