Prince Harry reportedly loves this restaurant. Will Miami love it, too?
The market at Novikov
Famous Russian restaurateur Arkadiy Novikov (who has more than 50 restaurants in his empire) brings his eponymous Japanese-Chinese restaurant Novikov to Miami following successful locations in London, Dubai and Moscow. The London restaurant counts Prince Harry, Rihanna and Leonardo DiCaprio as fans.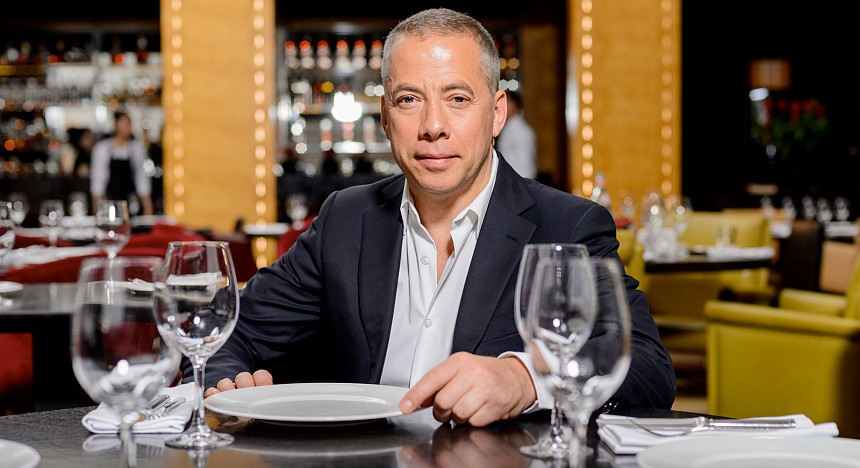 Russian restaurateur Arkadiy Novikov.
The space:
Hospitality designer Adam D. Tihany (Four Seasons Dubai, Beverly Hills Hotel), creates a glossy space with glazed wood tables, striking artwork at the entrance and structural columns reimagined as graceful tree trunks that disappear into curving ceiling fins. The room is full of energy – there's a bustling open kitchen behind which a team of chefs churn out dim sum, maki, Peking Duck and man the robata grill while a phalanx of servers regularly circles the room. Beyond the open kitchen is a glass-enclosed market display stocked with baskets of produce and an overflowing raw bar brimming with fresh seafood. An inviting outdoor terrace offers views of the Bay.
You'll come here with:
A date or a group of friends. This place works on many levels.
What to order:
An array of family-style plates (most small plates hover in the $12-$16 range; larger mains are $19-$45). "This menu is what I consider to be tasty. What I like," says Novikov. "Our food is not difficult or complex, but the foundation is healthy and good food."
The menu darts around Asia with Chinese delicacies like dim sum and Peking Duck to wok dishes to Japanese robata grill dishes to sushi and sashimi.
One could go the route of a high-roller with dishes of poached quail eggs with truffle, peking duck with caviar, along with dishes like black cod rolls and waygu sirloin or keep things a little more gen-pop with well-executed wok dishes or dim sum like the chicken and morel mushroom siu mai or the corn and saffron pockets.
Sashimi leads the way on the menu along with hot Japanese dishes and plenty of robata. Start off with the signature yellowtail sashimi with cilantro or the scallop with truffle. Then move on to grilled items from the robata like lamb cutlet, salmon teriyaki and miso baby chicken. The Novikov duck salad is a popular dish from other outposts, as is the truffle duck and the grilled prawns. Maki rolls run the gamut from spicy tuna to King Crab California to scallops and jalapeño.
Desserts include a refreshing mojito sorbet, passion fruit meringue and a molten chocolate cake.
Bottom line:
If the London restaurant is any indication, this Asian eatery will soon be a regular stop for celeb and scenesters in Miami.
Novikov Miami


300 S Biscayne Blvd, Miami