This South Beach hotel's newest restaurant is all about 'fresh, organic, local'
the 'bu comes to the beach
The 'Bu comes to the Beach when Swedish chef Helene Henderson, the founder and owner of star and surfer-studded Malibu Farm Pier Café and Restaurant in Malibu, CA, brings her Malibu Farm Miami Beach to the Eden Roc Miami Beach. The restaurant is set to open to the public on Saturday, April 28.
Credited with changing the face of Malibu's food landscape with her Scandinavian-accented, left-coast-influenced "fresh, organic, local," mantra, Henderson will attempt to do the same with fresh, organic and locally sourced ingredients and, for a change, an Atlantic Ocean backdrop.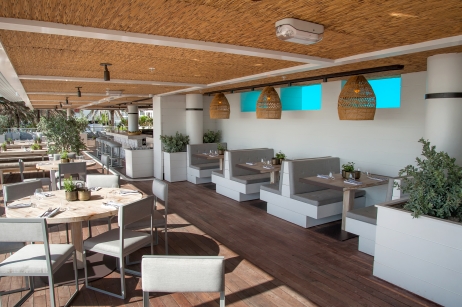 "I'm thrilled to be bringing Malibu Farm and our Fresh/Local/Organic casual dining approach to the stunning beachfront location at the reenergized Eden Roc Miami Beach," Henderson said. "Although California gets a lot of attention for its produce and farming community, I have been more than impressed by the variety and quality offered up by the organic growers and farmers of South Florida, and have worked with our Miami chefs to craft a menu that highlights these offerings with locally-sourced ingredients."
Among the menu highlights: vegan and coconut tofu with seasonal vegetables and quinoa rice; chicken ricotta burger with spicy aioli; and local fish with seared radish, arugula, and salsa verde.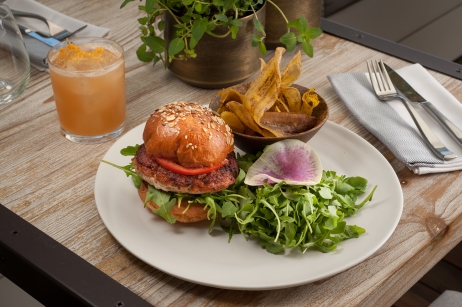 Chicken Ricotta Burger
Handout
There's also a wood-burning pizza oven churning out cauliflower crust pizza with mozzarella, heirloom tomato, pesto, arugula and roasted cauliflower; the zucchini crust pizza; or traditional pizzas with local spinach, Miami Smokers' bacon and more.
Gluten-free options will also be available and an organic and plant-based booze program makes imbibing almost seem as healthy as juicing.
Almost.
Malibu Farm Miami Beach


Eden Roc Miami Beach, 4525 Collins Ave., Miami Beach;305-674-5579
7 a.m-11 a.m. breakfast; lunch noon-5 p.m.; bar open until 7 p.m. Brunch and dinner soon to come.
4525 Collins Ave., Miami Beach