4 new Miami restaurants that you should check out right now
Dishes from Boulud Sud Miami.
Hotel dining isn't always an exciting prospect. But in our city it can be as dynamic as the stock market, with newbies constantly popping up and vying for attention. These new spots have plenty of chef cred going for them with exciting revamps and enticing menus to explore.
AQ Chop House by Il Mulino


The posh Acqualina Resort revamps its in-house restaurant and borrows talent from its outpost of Il Mulino to merge into this Italian-influenced steak house. The restaurant, designed by Saladino Design Studios, occupies the opulent salon flanking the hotel's lobby bar. Ample outdoor seating is available on a Romanesque patio with arched walkways and a gurgling infinity pool. There's also a small indoor market with a gelato bar, wine and gourmet items for sale.
The dishes: Il Mulino Executive Chef Michele Mazza presides over the menu. Dinner begins with Il Mulino's traditional array of antipasti that includes roasted zuchini and hunks of parmesan cheese. Crudos like the branzino with blood orange give way to richer dishes like short rib ravioli with sage and butter or the cavatelli with sausage and broccoli rabe. Steaks and chops take center stage with cuts like the 14-ounce NY Strip or the 32-ounce porterhouse for two getting luscious treatment. Sides of cream of corn and truffle fries round out the decadent offerings.
For dessert, diners can choose from the offerings of the small adjacent market that stocks homemade gelatos and a dessert case containing confections like French macarons, dessert tarts and cakes.
Don't miss: The recently-launched Sunday brunch (which includes unlimited Mimosas, Prosecco, Mojitos and Bloody Marys) is an array of raw bar, fresh fruit, charcuterie, pastries and baked goods. Indulge in the pasta stations, which feature Il Mulino's mushroom ravioli in cream sauce, and the hot items, which go above brunch standards with dishes of pepper steak, lemon chicken and roasted rosemary potatoes. Save room for scoops from the gelato bar with flavors of cappucino ship, dulce de leche and passion fruit sorbet.
17875 Collins Ave, Sunny Isles Beach, FL 33160
Boulud Sud Miami


The downtown outpost of celeb chef Daniel Boulud's DB Bistro has fully transformed into a temple of Mediterranean delights with Boulud Sud Miami. Executive Chef Clark Bowen helms the kitchen and churns out Chef Boulud's popular Mediterranean dishes with flavors from France's Côte d'Azur, Spain, Italy, Greece, North Africa and Turkey.
The multi-room eatery on the ground floor of the sleek JW Marriott Marquis has been given a Mediterranean feel with lots of lush plants, free-flowing olive oil decanters, linen seating, Moroccan-inspired tile floors, lattice walls and original artwork by artist Vik Muniz.

Dont miss: That spacious cocktail lounge outfitted in blue and white couches flanking the marble sunken bar, which is a sophisticated spot to sip a St. Tropez Gin and Tonic (made with Lillet Blanc and lemon verbena).
The dishes: The menu travels the entire region offering flavors from France's Côte d'Azur, Spain, Italy, Greece, North Africa and Turkey. There is an emphasis on grilled fish and lamb, as well as an abundance of fresh vegetables. Prices are in keeping with the luxe surroundings: starters are $12-$17 and mains are $22-$38.
Lamb flatbread at Boulud Sud Miami.
Dinner starts with fresh focaccia and olive oil. From there it's on to a platter of mezze that includes a spicy hummus, petite falafel balls and babaganoush. The Arabic Lamb Flatbread is topped with eggplant, pine nuts and drizzled with labneh yogurt to cool some of the heat from the spicy meat. Larger plates like the seared branzino over a bed of freekah with apricot sauce play with Middle-Eastern flavors balancing spicy and sweet while the chicken Tagine is a bowl of Moroccan comfort food.

Pastry Chef Saeko Nemoto keeps the momentum going with the Grapefruit Givre made from a hollowed-out fruit filled with rose loukoum, grapefruit sorbet and topped with threads of sesame halva. A coffee and chocolate "cube" mixes black cardamom crémeux, praline feuilletine, baklava ice cream to round out the sweet offerings.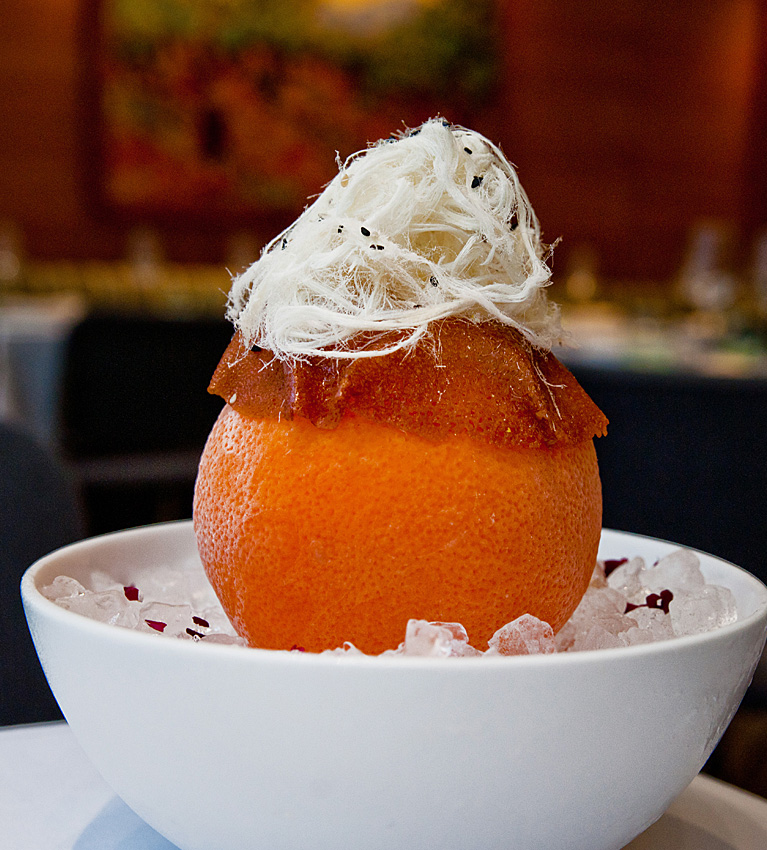 Grapefruit Givre at Boulud Sud Miami.
255 Biscayne Blvd Way, Miami, FL 33131
The Alley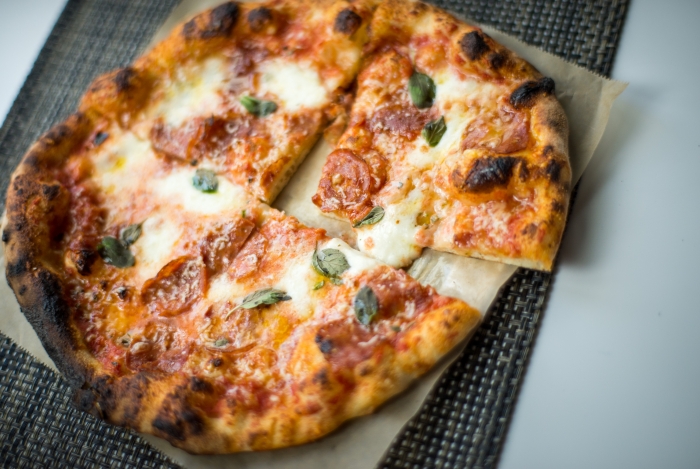 Pizza at The Alley.
The Betsy Hotel bought and renovated a hotel directly west of it, then merged the two South Beach structures to create a newly opened breezeway between Collins Avenue and Ocean Drive aptly named The Alley. There you'll find a gem of an Italian spot helmed by Executive Chef Danny Ganem and Chef John Kreidich.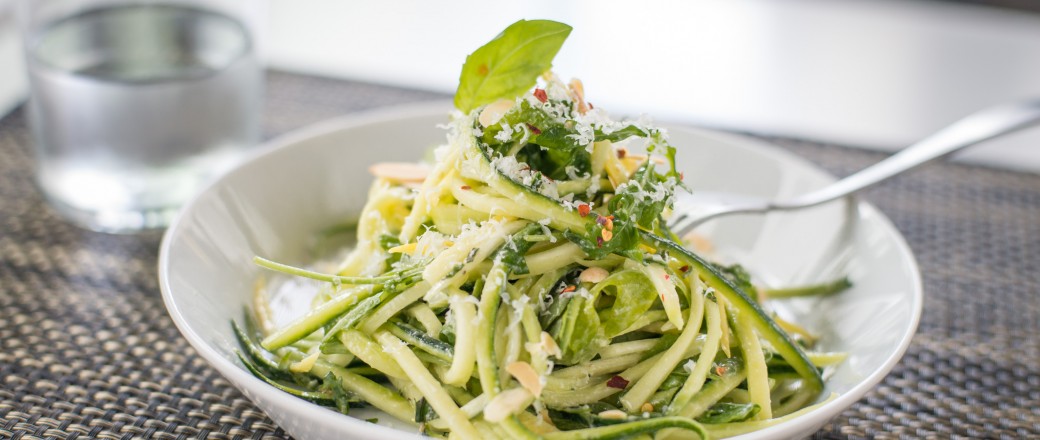 Zucchini salad at The Alley.
The trattoria-style Italian pizzeria features ten pies made with super-fresh toppings like charred kale and gorgonzola dolce, truffle and fontina cheese and rock shrimp and pecorino pesto. Antipasti dishes are equally enticing with rustic bowls of whipped ricotta with garlic and rosemary focaccia, meatballs topped with pine nuts and snapper crudo with shaved fennel. Ask about the pasta of the day which could be anything from cacio e pepe to tagliatelle with short rib. Save room for scoops from the gelateria and the frozen orange stuffed with an upscale version of creamsicle flavor.
1433 Collins Ave, Miami Beach, FL 33139
Root and Bone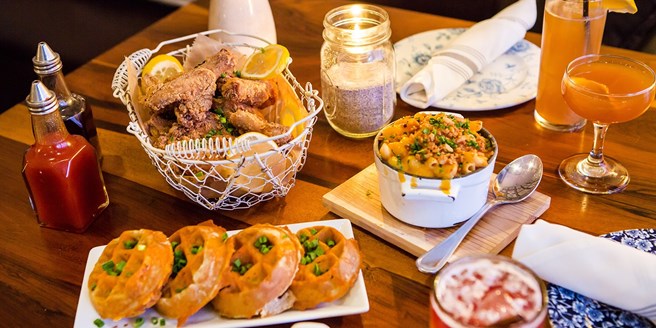 Fried chicken and fixings at Root and Bone.
After Hurricane Irma flooded chef partners Jeff McInnis and Janine Booth Sarsaparilla Club at the Shelborne South Beach Hotel, the duo decided to open a pop-up of their popular Southern comfort food spot Root and Bone. The restaurant resides in the hotel lobby which has been warmed up with shabby-chic couches, flowers and music.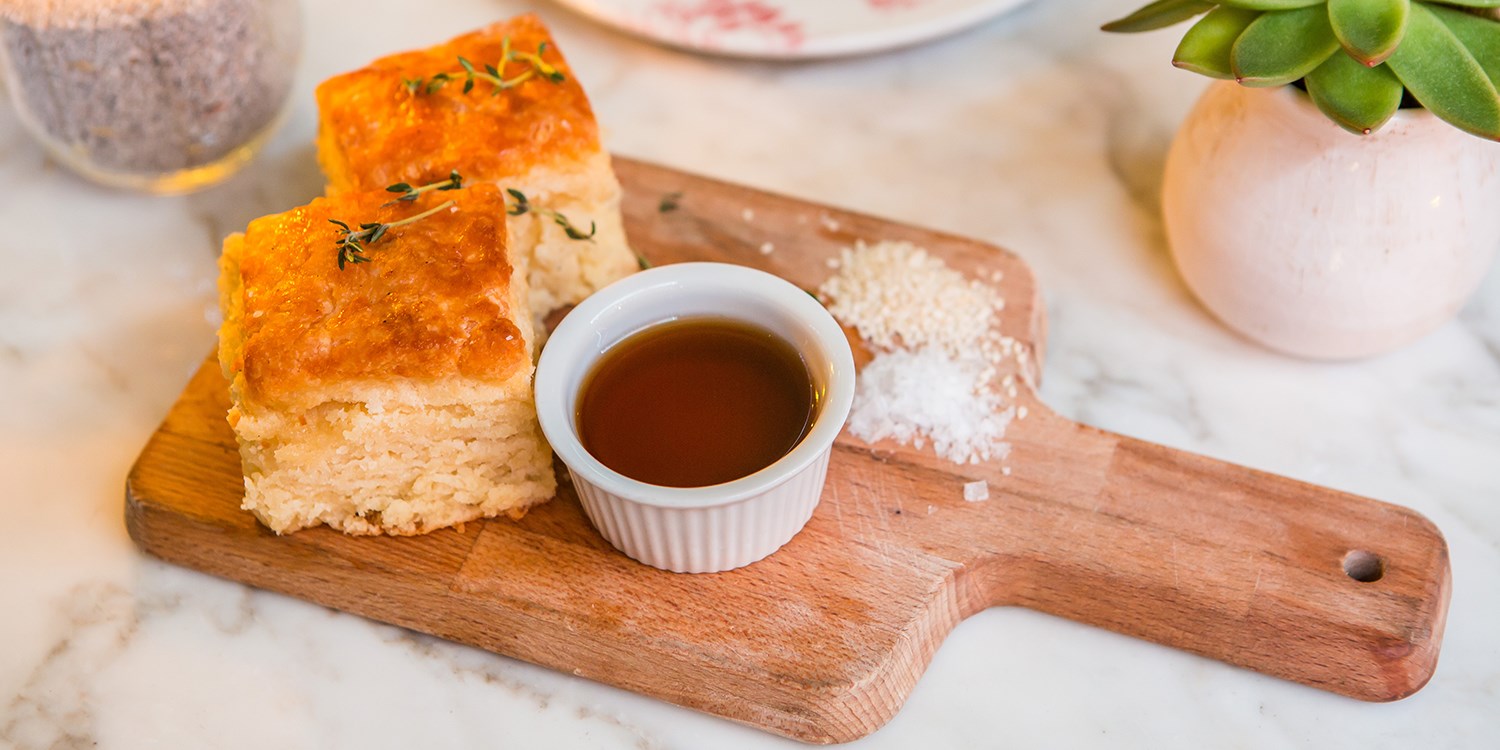 Biscuits at Root and Bone.
The star of the menu is the crispy free-range fried chicken, which can be ordered either half or whole in baskets, and is lightly dusted with lemon and sprinkled with tobacco honey. Buttery biscuits, deviled eggs, a decadent mac and cheese and buckwheat cheddar waffles round out the belly-filling homestyle feast.
1801 Collins Ave, Miami Beach, FL 33139