From Sicily to Morocco: North Miami's Panarea sea grill hopscotches around the Mediterranean
The who: Owner Luca Delogu has opened Panarea Mediterranean Sea Grill in Miami Shores. The restaurant is named after the second smallest island of the Aeolian chain of volcanic islands in Italy and considered the heart of the Mediterranean. Executive chef Claudio Sandri, who hails from Turin, Italy, is in the kitchen.
The space: The former North 110 space has been re-imagined as a cozy villa with fresh fish displayed on a raw bar, giant windows framing Biscayne Boulevard and nautical accents.
The dishes: Cuisine that hop scotches around the Mediterranean with specialties from Morocco, Italy, Greece and Spain. Prices are neighborhood friendly with starters $8-$16 and mains $18-$28.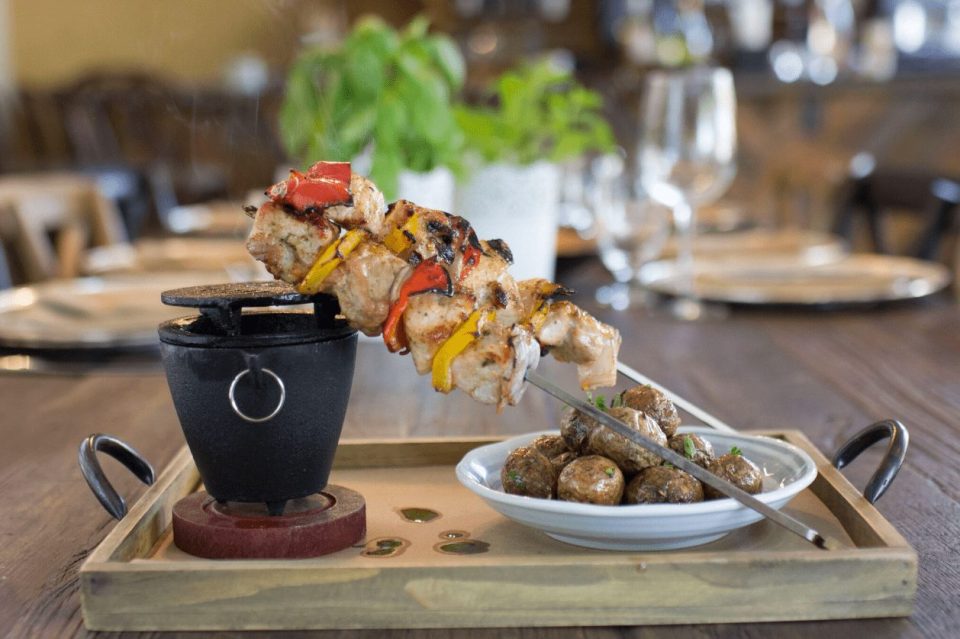 Chicken kabobs at Panarea Sea Grill.
Start off with mezzes like the Egyptian fifil (red pepper) hummus, traditional baba ganoush and the Turkish portokal (orange) salad made with marinated olives. Seafood dishes abound like the Pejerreyes Fritos, a Spanish-inspired dish of fried sand smelts with green zucchini and sage leaves or the Sarde Marinate, which stems from Italy and entails marinated sardines with a fresh cucumber tomato salad. Whole fish and shellfish can be customized based on sauces and preparations like Sicilian Salmoriglio dressing, made of olive oil, parsley, garlic, oregano and lemon, or the chermoula dressing from Morocco, created with cumin, paprika, saffron, lemon juice and olive oil.
Half a dozen pasta dishes include options such as one made with spirulina, an algae that is considered one of the most nutritious foods on earth, and tossed with fresh vegetables and olive oil. Heartier mains include the za'atar chicken breast and the khrouf from Morocco, a lamb stew prepared with apricots, chickpeas, potatoes, carrots, cinnamon, and herbs.
Desserts continue the globetrotting theme with charming "recipe" cards listing dishes such as the Croation Princess Krafne, a profiterole filled with cream or the warm chocolate lava cake.
Bottom line: An eclectic spot for authentic Middleterranean cuisine.
Panarea
11052 Biscayne Boulevard, Miami
305-640-5580