The who: South of Fifth gets another sprawling seafood joint with Lobster Bar Sea Grille, a venture of Buckhead Life Restaurant Group of Atlanta, Georgia, and owners of the popular Chops Lobster Bar and City Fish Market in Boca Raton and sister restaurant Lobster Bar Sea Grille in Fort Lauderdale. The kitchen is headed by Executive Chef Arturo Paz, most recently of Cleo.
Dining room at Lobster Bar Sea Grille.
The space: The former China Grill space is suited for power dinners with cushy banquettes, a grand white-tiled curved ceiling that evokes New York's Oyster Bar and a white marble ice display made of Thassos marble imported from Greece that showcases each day's catch on ice. But couples looking to get to know each other over shellfish towers will also appreciate the warm lighting and smaller booths that line the walls. If the Fort Lauderdale location is any indication, happy hour (Monday-Friday from 5:30-7:30 p.m.) will be buzzing with "Bourbon and Bubbles" drink specials.
Sign Up and Save
Get six months of free digital access to the Miami Herald
The dishes: Seafood and steaks with a Greek influence. On any given night the raw bar will be stocked with live lobsters from Nova Scotia and weighing up to four pounds, oysters from the Pacific Northwest and European fish. The steaks and chops are custom aged by Halpern's – Black Diamond USDA Prime Steaks. Prices reflect the high-powered atmosphere: starters are $14-$29 and most entrees are in the $30 range.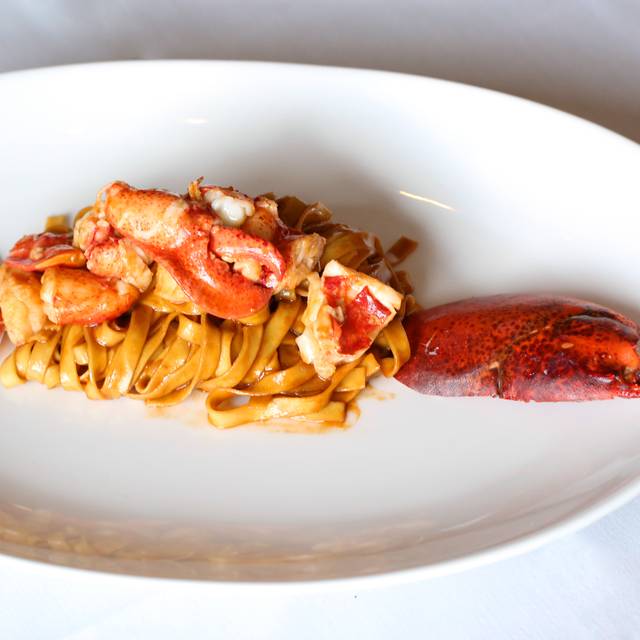 Lobster pasta at Lobster Bar Sea Grille.
Start off with the jumbo lump "Maryland" crab cake, chock full of crustacean and follow that with the lightly fried lobster morsels with Greek honey mustard aioli. The Hawaiian Ahi tuna tartar topped with osetra caviar is a glitzy way to start or opt for one of the salads, served in portions large enough for the table.
Sea Bass at Lobster Bar Sea Grille.
Whole fish choices include a classic Greek lavraki, turbot from Spain, Dover sole and New Zealand red snapper. All are wood grilled and served with Santorini capers and Greek olive oil. Lobsters can be head steamed and cracked, stuffed, in pasta Americaine or dressed with a mild chili butter. Steak run the gamut from a NY strip to a bone-in rib eye to a dry-aged porterhouse experience. Side of hashed potato "tots," glazed Brussels sprouts and creamed spinach round out the decadent meal.
Desserts are large and showy, easily satisfying a table of four. Among the sweets: classic profiteroles with Valrhona dark chocolate sauce and sugar roasted almonds, Greek yogurt with Greek thyme honey and toasted walnuts and Tropical Cremeux with passion fruit and tonka bean mousse and almond coconut biscuit.
Bottom Line: It may be in the same 'hood as Milos and Joe's but South Beachers now have another fancy seafood spot to feast on stone crabs and oceanic delicacies.
Lobster Bar Sea Grille


404 Washington Ave., Miami Beach; 305- 377-2675
404 Washington Ave. Miami Beach