La Moderna serves up cocktails with personality
Tucked away in Miami Beach's quaint Sunset Harbour Shops, La Moderna is a local foodie and mixology fan's paradise. Its sleek, modern industrialist decor (think steel pillars and a copper bar) gives it a sophisticated look that contrasts with its warm and intimate neighborhood bar feel. Owner/founder Luca D'Angelo, managers Mario Maltese and Larry Mele, and Executive Bar Manager Valentino Longo treat guests like long-time regulars, and the smell of fresh baked bread wafting from the kitchen (where Executive Chef Manuel Lana holds dominion) is as comforting as the smile of an old friend. In the dining room, a large mural depicting a bar and its colorful patrons greets guests as they enter.
But perhaps the most unique thing about La Moderna is its cocktail menu, spearheaded by Executive Mixologist Rusty Cerven. Each drink is based on a different character depicted in the mural, and what you soon discover upon reading the names of the drinks is that each character represents either a state of mind or a "stereotype" you've probably encountered at every bar you've been to. There's Kama & Sutra (that overly affectionate couple making out all night in the corner), Ernesto (the distinguished gentlemen at the bar sipping his rum, reading the paper and smoking a cigar in silence), Dr. Strangelove (the confident, sweet-talking bachelor with the hidden agenda)…the list goes on. There's no happy hour (yet) so the cocktails range from $12-$14. Here's what we tried:
Ernesto – (below) 'Always a gentleman contemporary in his ways with a poetic lifestyle and a unique taste.' Mount Gay Black Barrel rum, peanut butter wash, Cocchi Torino and Gancia Americano, garnished with a roasted peanut.
Kama & Sutra – (below) 'A seductive transformation of the Moscow Mule is just what's needed to ignite your pleasure.' Templeton Rye, fresh lime juice, eucalyptus pear syrup, ginger beer and angostura bitters.
Dr. Strangelove – (below) 'Confident, independent, self-controlled (with one glaring defect) – he seems to hold the world in his hands.' Martin Miller's gin, Martini extra dry, eucalyptus, St. Germain Elderflower and St. George Absinthe.
Harry & Sally – (below) 'That special moment when time stops, life's challenges fade and you get lost in the eyes of the one you love.' Milagro Silver tequila, Pimento Dram, fresh lime, Ancho Ryes, agave nectar and an egg white.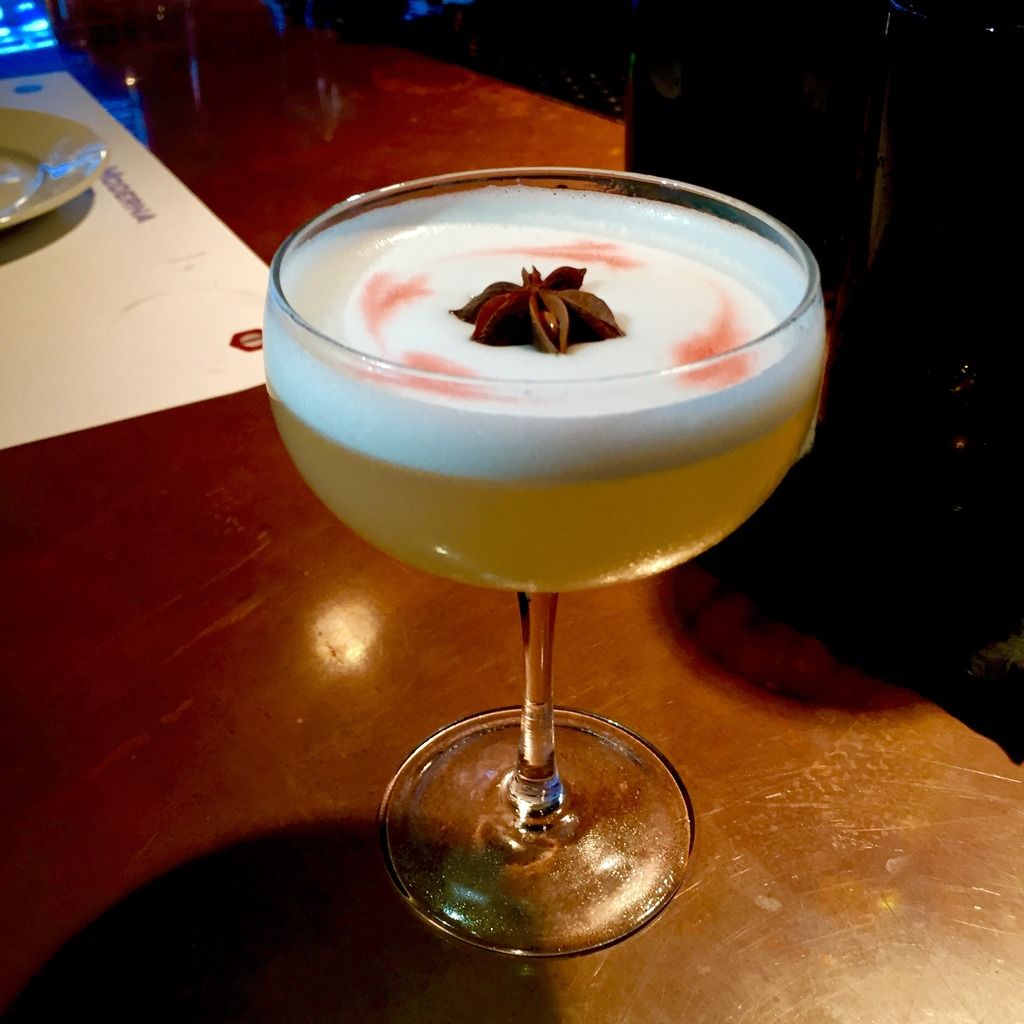 Thelma & Louise – (below) 'The combination of two opposing characters: the unhappy Thelma and the strong willed Louise, both in search of adventure and a new experience. In the end they fit together perfectly.' Hibiscus infused aperol, Brugal extra dry rum, fresh strawberries, coconut soda water and proseecco, served with a homemade strawberry jelly roll cone.