Drinkhouse Fire & Ice's mixology program proves it's more than just an ice bar
Boasting Miami's newest (and only) ice bar, and a collection of internationally imported vodkas you've probably never heard of, Drinkhouse Fire & Ice is perhaps best known for its icebox attraction. However, the real gem of Drinkhouse Fire & Ice is its mixology program. Drawing from her experience at places like STK, Sugarcane, and Villa Azur (where she curated the liquor program), general manager and BarSmarts certified mixologist Chandalle Yarney has designed a drink menu that pushes the boundaries of the craft. While you'll find plenty of crowd-pleasers on the list, the real gems of the menu are those that engage more than just your sense of taste. Here's what we tried:
Winter's Kiss – (below) Van Gogh Dutch Caramel vodka, hot cocoa and fresh whipped cream, sprinkled here with choclate caviar. Makes you feel like you're curled up by a fire on cold winter's day – until you realize you're drunk. $12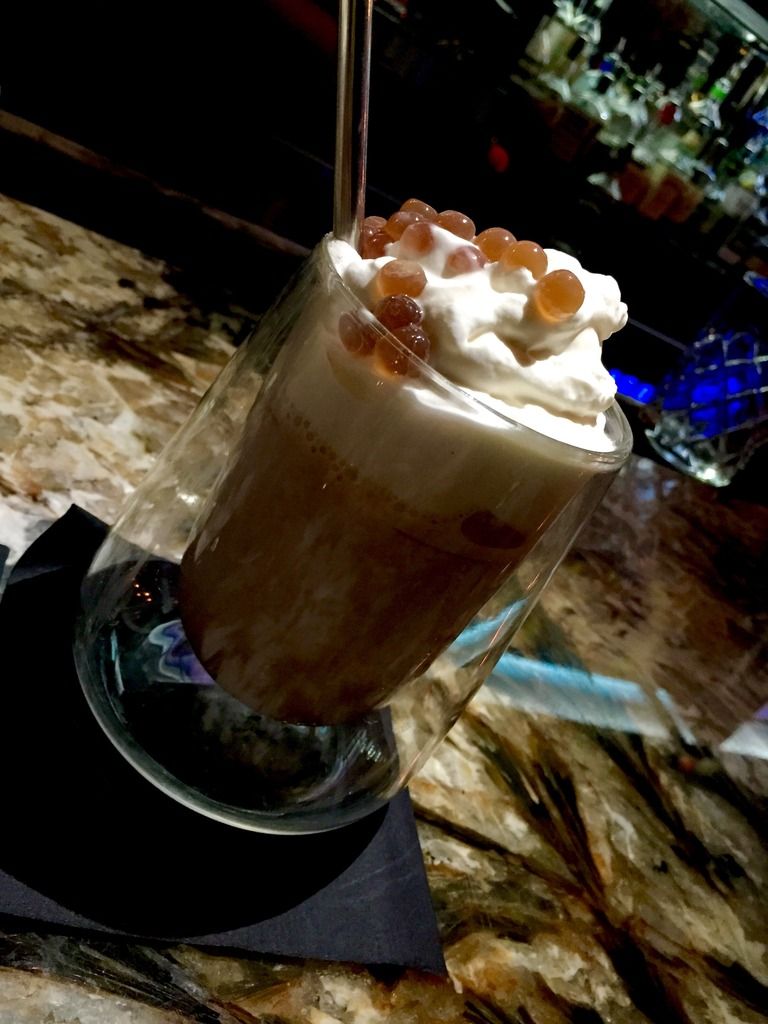 God of the Rising Sun – (below) Milagro Tequila, jalapeno pomegranate, cactus juice, mandarin orange and bleeding heart citrus leaves. Not too spicy, not too sweet and great for those who like jalapeno-infused libations. Besides, where else can you try cactus juice? $17
Glacier Water – (our favorite, below) Lemon-nfused Deep Eddy vodka, curacao, citrus and Pop Rox. Comes with an ice cube cut in the shape of the Titanic. Place a sprinkling of Pop Rox on your tongue, chase them down with the drink, and sit back as the fireworks go off. $15
Tantra-Tini – (below) Belvedere Vodka, pomegranate, cherry liqueur, fresh foam, drunken cherries and "sexual effervescence". We're not sure what that last ingredient is, but this drink is the epitome of sexy. And it comes with a phoenix embossed on the top layer of foam made from bitters spray. $17
Samadhi Night Spa – (below, left) Hendrick's Gin, St. Germain, fresh cucumber juice, cilantro and citrus. Great if you're a fan of cucumber martinis. $16
Drunken Dalai Lama – (below, right) Ketel One vodka, jasmine honey, citrus and drunken ice. Smokey sweet and seductive. $16
Shocktail – (another favorite, below) Nolet's Gin, homemade lemonade and a Szechuan button. Used as a numbing agent by dentists hundreds of years ago, the Szechuan button is a tiny little green bud served alongside this cocktail. You pop it in your mouth, chew for a bit, then take a sip and enjoy as the numbing properties open up your tastebuds to the herbal qualities of the drink. $18
Our verdict: yes the drinks are pricey (almost nightclub-level pricey) but you're getting so much more than a half-hearted vodka cranberry. If you can't make it a regular spot, you should definitely check it out at least once or save it for special occassions, as there really is nothing like it on the Beach when it comes to sensory overload mixology. Plus, when you have a soundtrack that alternates between trance, disco and hip hop, and bartenders with a knack for eating fire and an endless repertoire of mesmerizing bar tricks, it's bound to always be a good time.