11 things Miamians do when it's 'cold' outside
It's getting cold in Miami – really. Below 60 degrees around these parts is serious, bro! So here is what we do in Miami when the temps drop:
1. Bust out the parkas and the boots!
You know you have last season's winter lines that were on sale at Burlington Coat Factory that you're eager to show the world … now's your time, baby! The sidewalk is your runway. WORK!
2. Turn on the Heater (yes, the A/C also serves as the Heater, sometimes)


Sure, it might blow sulfur-infested air and stink up the house for the first 30 minutes, but just wait for it … wait for it … now you can take your double layer sweaters off and prance around in your boxers like normal.
3. Your Iced Latte is now HOT Latte
You might burn your tongue a bit from the scalding 120 degree temperature of your Grande Nonfat 2-Pump Caramel Macchiatto, but boy … sure does taste like a winter wonderland in your mouth!
Read More: Cold weather is coming and Miami is about to lose its mind
4. Do NOT go to any night-time events because it's too cold!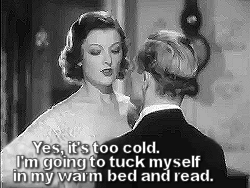 And so what if this event is held indoors; still doesn't help that it's 55 degrees outside!
5. Contemplate not even going into work. It's 55 degrees out there!!!


We've been there. The Northeast has Snow Days … Miami has "Cold Days."
6. Contemplate leaving work early. It's cold out there!!!


See note above.
7. Socks with flip flops are acceptable in these extreme conditions


No one can fashion-police this crap. It's too cold to even think about what's okay and what's not okay anymore.
8. That Hermes scarf you bought for $2K is now justified


FINALLY! Wear that damn scarf to the bathroom; to your grandma's house; to your PTA Meeting (definitely to your PTA Meeting); to bed; to wherever. That thing is getting stapled to your neck.
9. Reminisce about when you used to live in New York City


And how 55 degrees was like "nuthin'" and how you used to wear shorts and a tank top and go swimming in this weather … then you shut up and put on your wool mittens and drink your hot cafe con leche and whine about how you wanna leave work early cos it's cold out there!!!
10. That fireplace in your living room that you use to store your booze might come in handy now


OK, so maybe you don't know anything about working a fireplace but hell, it's worth a try. (Please note: you MUST buy proper fire-logs from Home Depot; do not think your empty pizza box can serve as a a good alternative to wood.)
11. Speaking of booze – drinking only reds, please.


Save the $7.99 bottle of rose for later and stick with the 2 Buck Chuck from Trader Joe's. That'll warm you up QUICK!
Related: 11 things to do when you move to Miami